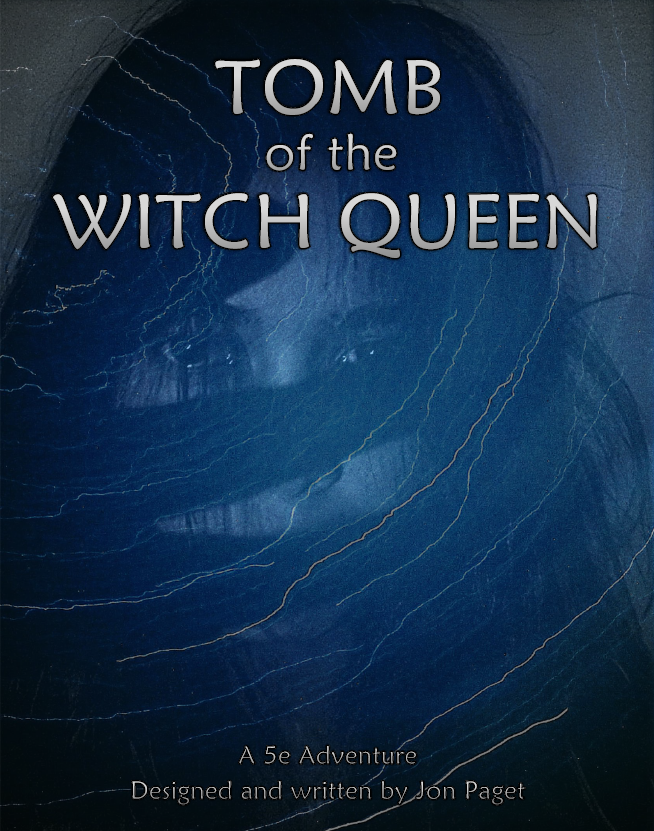 By Jon Paget
Jon Pagat Roleplay
5e
Levels 1-12 (scales)
My New Years resolution is to only review good adventures! Let's go! 🙂
News has got out about a tomb of unknown origin that has been found in the wilds. The explorer sent members of their expedition to alert the city authorities. That was two days ago, and there has been no sighting or word from them since.
This twelve page adventure features a dungeon with …, I don't know, twelve rooms? There's no maps, its detail is abstracted, and the text disorganized to a more unusual degree than most. Perhaps, as the poster says, the purpose of your life is to serve as an example to others?
This is my first review of the new year, because I write a couple of weeks in advance. There seems to be a dearth of true OSR material lately, and the ones on my list are over a hundred pages long, on average, which takes some intestinal fortitude to bite off. I'm working on the longer ones though. (I'm looking at you MontiDots …) Two adventures popped up on my radar though, and looked interesting for different reasons. It was either that, of a wild west adventure. Be thankful. Anyway, a quick glance at the DriveThru page of this and it looked like there was something going on. I was wrong. Very wrong. 
It's easy to identify the WURST adventures. But, what lies in the middle? Or, rather, what lies between the worst adventures and the usual middling dreck that clogs up the 4's and 5's on a ten point scale? What does a 2-3 look like? It looks like this. It looks like something that clearly had a logical mind behind it but for which all the wrong choices were made. When made on purpose they can be the result of a creator vision, on the way to some place new. Or, you can make the wrong decisions because you don't know better or because they are expedient.
There's no map to this. A couple of the rooms have simple colored boxes with some number labels in them, but, they do little, and don't represent a map of the entire complex. This means that a significant portion of the text is taken up with the designer trying to describe, textually, where each room lies in relation to each other. Tried and Dies, says Indy. The text gets confusing, as you try to make out where each room lies and how they lie in relation to each other. And this text gets in the way of the text that actually DOES matter to the adventure, the text that describes and relates the room you are in. It obfuscates that text, making comprehension harder for the DM. All of which could be solved by including a simple dungeon map. If you don't want to learn a dungeon mapping program then just hand draw something and take a photo with your phone. Dungeon maps exist for a reason. They convey information quickly and easily. I seldom think in black and white, in spite of my usual hyperbole to the contrary, but in this case THEY ARE THE CORRECT WAY TO PRESENT THE INFORMATION. You don't NEED a map, for every place, but with ANY complexity at all you almost certainly do. Just use a fucking map people!
A substantial amount of the detail in this is abstracted. Abstraction is almost never the right thing to do in an adventure. A perfect example of this is the intro: "News has got out about a tomb of unknown origin that has been found in the wilds. The explorer sent members of their expedition to alert the city authorities. That was two days ago, and there has been no sighting or word from them since." Note that news has got out. The City Authorities. The explorer. This extends to the fact based descriptions. "Two dead bodies" and "they belong to the previous expedition" is the extent of the description. The tomb belongs to a witch, a DC check tells us, bu no name of her or hint of her atrocities. A book with a bookmark on a table, with no hint of what it is. The key to a good description IS its specificity. It's the soul of a narrative, after all. And it's not verbosity that's important. That's a different trap. The key is to write a description that is specific, evocative, and short. None of which happens in this adventure in any area of it.
Including the area, the entire third level, in which the players make up challenges for each other. *groan*
Further, the rooms descriptions are not organized and coherent. In one place were told that mist from a teapot needs to be stopped. But, later, when we actually get the description for the teapot room, there's no mist mentioned at all, coming from the teapot or not. In fact, the mist is NEVER mentioned, except that it needs to be stopped to avoid the "scares tactics" going on. A grate on the floor is never mentioned, until you make a good DC check. And DC checks. Ug. This is a classic example of how NOT to do them. A DC check allows the players to determine what's going on, to find details, instead of the details just being in the room and the DM allowing them to be found, with the DC checks as a fall back. Just roll the fucking dice and concentrate on your fucking build so the DM can spoon feed you detail. I will allow that some misanthropic segment of society thinks that is a fun way to play D&D, I just don't want any fucking thing to do with them and reject any sense that is anything cloe to mainstream desires. It's fucking lame and empty.
The centerpiece of interactivity is a room with thirteen objects in it. Interacting with any of them will cause something negative to happen. There's no treasure. No boons. No learning. Just if you fuck with anything then it's save time. Ed Greenwood approves, but I do not.
This is $5 at DriveThru. There's no preview. Why would there be?
https://www.drivethrurpg.com/product/342006/Tomb-of-the-Witch-Queen?1892600