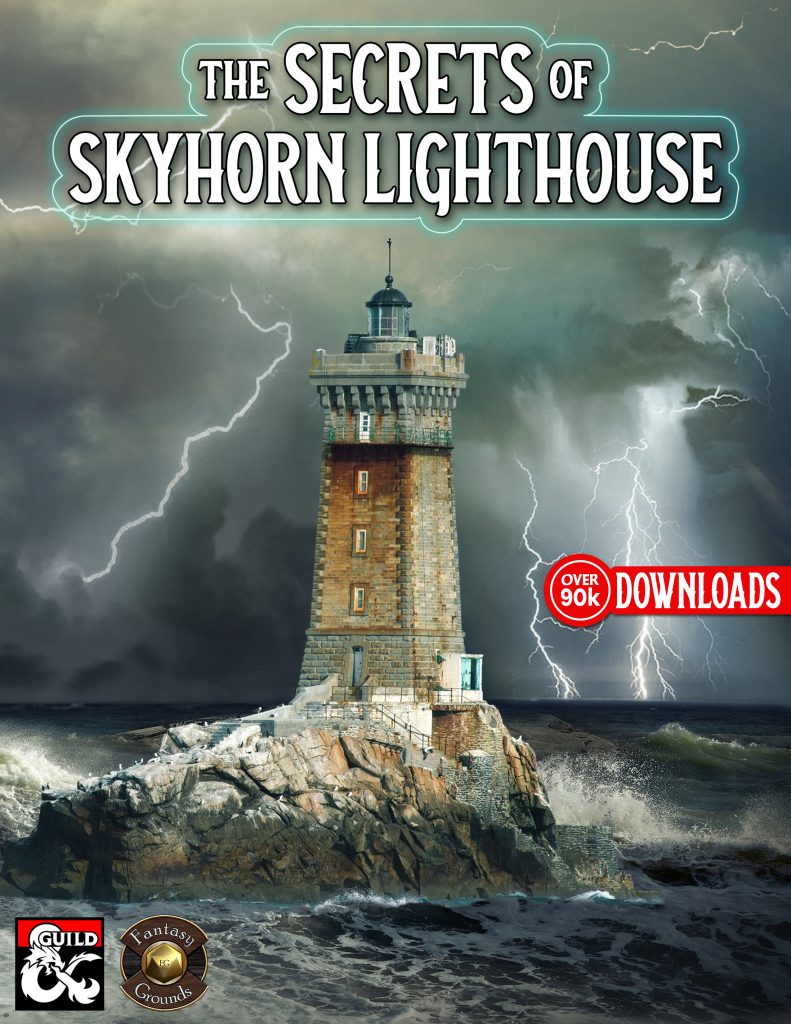 By Kelsey Dionne
Self Published
5e
Level 5
Rumors of a rampaging sea monster have ground shipping traffic to a halt in the harbor. The characters discover that the Jade Lion has gone missing near Skyhorn Lighthouse and learn they must brave the open seas and cutthroat enemies in order to save the crew from a murky fate!
This 24 page adventure features around eight "one page each" scene based encounters. It's a great example of forum plus function and what can be achieved when a designer has a vision and doesn't go in to autopilot mode. The choices made in the design make sense given the assumptions and should work out well in play. Kelsey Dionne joins that rare group of designers who have earned the description "Not a fucking idiot."
I believe that old school D&D, exploratory D&D, provides a substantially different experience, and a superior experience, than alternative forms of D&D. Those other forms are closer, I think, to story based indie-rpg's. I also recognize that story based D&D has been around since about 1978 and became the dominant form around 3 or so, I'd guess, and is the way the vast majority of people play D&D and have fun with it. (and by "D&D, i mean "fantasy role playing") And since drinking beer, eating pretzels and having fun with friends while escaping the crushing ennui of life IS the main point of ALL D&D, I'll take it.
The point of all of that is that modern fantasy RPG's are DIFFERENT THINGS. Different things require different formats to support their different assumptions. In a social adventure it doesn't make sense to have a room/key format since it's not an exploratory adventure … it's a social adventure. And yet, most adventures don't recognize that they are writing for different assumptions. They stubbornly stick to the old formats that were optimized for other assumptions, if they put any thought in to it at all. But not Kelsey. Kelsey has put some thought in to what's trying to be accomplished and has made decisions about the adventure, formatting, etc, that directly support those assumptions. And does a good fucking job at it as well.
Modern fantasy RPG's are essentially scene based RPG's. The adventure is designed around that. You get a page of overview/summary, describing how the adventure is going to unfold. This primes the DM for what is to come, generally a necessary step to fully leveraging the DM as a resource to expand your adventure and their brain to accept the coming information. Then there's a page of hooks/little scenes. Then there are eight pages that describe, one page each, the eight scenes in the adventure. A few pages of maps and appendices round things out. Eight pages. One per scene. You read the overview. Great. You're set now to run the adventure. The players do a couple of shots each and grab their 40's/Mad Dog to sit down. The DM runs the hooks from the hooks page. The adventure starts. The DM uses one page per scene to run the games. Everything they need is on that page. Its available there, at a glance. It's laid out with bullet points and offset text, with good bolding. It's easy to scan and run the scene, embellishing as necessary. There's a little text in a couple of bullets, maybe two, that give an atmosphere or physical description of the scene. It makes sense and the DM can build from it. NPC's are easy to locate. They have a six word appearance, a six word mannerism and a six word secret and are easy to grok and run at a glance. The secret might actually lead to interesting play, in some situations. So far so good, right? Scene based, once scene per page. Not exactly an innovation, either, but when taken together the start to formulate the basis of that modern D&D assumption. Then, Kelsey adds "Dramatic Question." This is an explicit section. This is what the scene is about. This is what is going on. "Can you X?" And then, the scene ends with a transition. Again, another explicit section that tells the DM what to do when the dramatic question is answered. "Ascend the stairs from the island docks to the lighthouse." for example. It makes sense. The four elements, all taken together, with the formatting/style choices … this is a great format for most adventures being published. It works. It's immediately obvious it works. It's immediately obvious that most adventure should be written this way, regardless of system, if it's not exploratory D&D. I won't say it's the ONLY way, but it should be obvious to every designer that this format is a good one and easy to mimic in their own adventures. 99% of DMsGuild and DriveThru adventures should be formatting this way, designed this way.
And yet, there's room for improvement.
Kelsey includes a section of the adventure in which the design choices made, the formatting choices, etc, are justified. It's sad that has to be done, but, whatever. In it it is noted that the DM is to embellish the descriptions. That's correct. A good adventure inspires the DM with the physical description. The DM then takes that and embellishes that as they see fit and/or where the game goes. (In contrast to the standard overwritten and long description. No, this is not a case of personal preference, unless you prefer eating garbage.) But, this requires a strong inspiration from the designer. Kelsey does a good job with this, certainly above average, but could do better. The first scene, on the docks, has a two bullet description, the faint glimmer of a lighthouse on a small island a few miles out to sea, and the docks choked with ships, quiet compared with the normal bustle of activity. I'll take this any day of the week over the overwritten garbage that is choking the hobby. And, you can even see signs of good writing. Docks CHOKED with ships. That's good imagery. And I get where the lighthouse thing is going. Both, however, are not given room to breathe and even, I would assert, are reigned in. A SMALL island. Small is a boring word. That whole second clause deflates the first one, the glimmering. A second sentence should puff it up more, instead of bringing it down using "small" and "a few miles out." Likewise the ship description. The choking bit is GREAT. Perfect imagery. But then it is reigned back in with "quiet compared to …" IE: boring. Drunken sailors, dice games, or even unearthly quiet, maybe … either would have heightened the description instead of "normalizing" it with "its quieter than normal." I find this common in the adventure … most of the text is spot on but the scene overviews, the location description where the scene takes place, gets short shrifted. It's not given the room to breathe it should, and in some cases I'd suggest that iconic "views" that should be in the adventure are not present at all in a meaningful way … the lighthouse and island in particular.
But … it's a good adventure. A water elemental "coughs up" treasure when killed. (Nice solution to a treasure problem in the ocean … and a good word choice.) The monster descriptions START with the physical description, what is most relevant to the DM when running the game. There's a monster reference in the form of "combat cards" for the DM to use to run the fights. I could bitch more about interactivity beyond "talking and fighting" and more about a certain magic item that is key to the adventure and yet unlootable … but thats nitpicking compared to the rest. It's a good adventure and Kelsey Dionne is NOT a fucking idiot. That means that until a Kelsey work is bastardized by a third party publisher, you can trust future work from this designer. Man, I really have a hard time saying something is good, don't I? It is, of course, one of the Best, but, also, ther Not A Fucking Idiot means that you can probabally buy Kelsey's stuff in the future and know its good. As with Chainsaw's works, when a publisher is involved things might change, but self-published by Kelsey should be a sign of quality.
This is Pay What You Want over at DMsguild with a suggested price of $0. Nineteen fucktards gave it three stars, three gave it two stars and one gave is one star. Well, fuck those asshats.
https://www.dmsguild.com/product/215629/The-Secrets-of-Skyhorn-Lighthouse?1892600