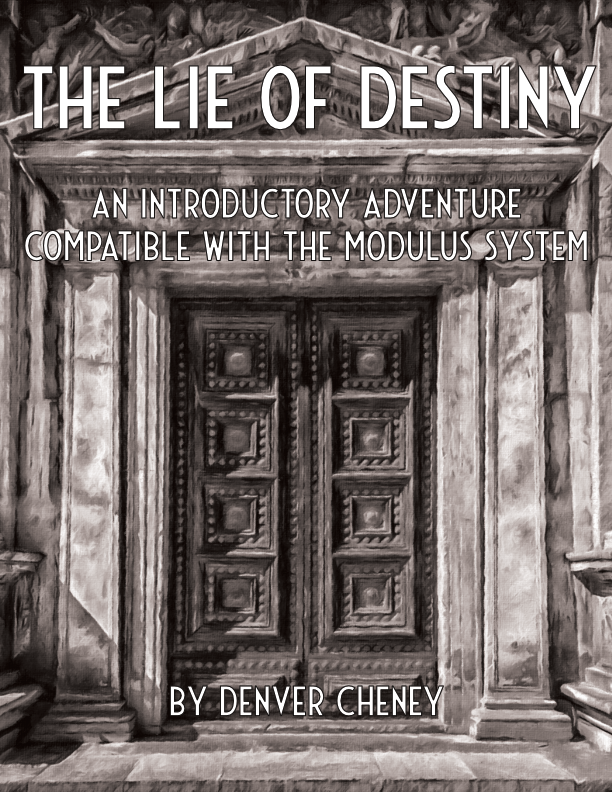 By Denver Cheney
Self Published
Modulus
Level ?
In The Lie of Destiny, an adventure for the Modulus system, your players get to kick in the door on some cultists and piece together the clues for a chance to save the Great Library from being burned! Pursue the fleeing cultists down back alleys and capture them before they make their escape to the Howling Sea aboard a stolen ship! This adventure drops your players in the thick of an important quest as agents for the Crown. While the enemies are weak, they are numerous and have paranoia on their side. Your players will have to be decisive, clever, and good at working together to achieve complete victory in this scenario.
This 12 page adventure is actually just a series of linked combats for your combat-oriented RPG of choice.
This isn't an OSR adventure, but it does say up from it's for Modulus, and it in the Other category on DriveThru. It also says "adaptable for any age of sail game", so that's why I'm reviewing it. And, by Age of Sail, it means "Any game that can have a boat in it."
There is a very popular mini's game by Games WOrkshop. It's just minis combat. What if you took that, or something like that, and had a little minis battle scenario. Then at the end you added some statement like "you find a clue that they are also headed to the library!" Then you'd have a series of minis combats interlinked by some VERY light roleplay-y elements. That's what this is. It reminds me of those interlinked scenarios from Star Fleet Battles, another minis game. Thus you have a "campaign" defined by " a series of interlinked combats." Essentially 4e, if the roleplay elements were even lighter in 4e. (It's always a good day when you can work in a 4e slam.)
There's some background, but mostly on the game world. You're agents for the EMpire and you've tracked the cultists to their lair. That's how it starts. The pretext here is VERY light, starting, essentially, outside the shop the cultists use. The actual scene is described in half a column, so, two scenes per page. There are hints to the DM for reinforcements and the cultists running away to warn others, but that's about it. Interactivity is limited to "looking for clues after the combat is done" or "stop the cultists from burning a paper during the combat" and the ilk. This really is just a series of four combats.
The clues after the combat are meant to be the pretext to get you to the next scene, but they are VERY light. One cultists had ink stained hands. There are old books around. There are books marked off of a list. A scholar outfit is in the closet. THis means, of course, that the next scene/combat is in the Great Library.
I would suggest that this isn't a roleplaying adventure. It's just a mini;s combat thing. Maybe that's what the Modulus RPG is, just a combat game. Which is ok .. except when advertised, perhaps, as "compatible with any age of sail RPG." There's no real scene. No real interactivity byond combat. Just one combat followed by a teleport to the next combat scene. "You're in the library. The cutists drop a lantern to start burning books!"
So, 4e was too heavy on the roleplaying front? Just want to stab some shit? This is the adventure for you.
This is $2.50 at DriveThru. The preview is only two pages and just shows the intro text. It would have been better if it had shown an actual encounter, then you could have made a better decision on if the adventure was something or a type you're interested in.
https://www.drivethrurpg.com/product/324322/The-Lie-of-Destiny–A-Modulus-Adventure?1892600