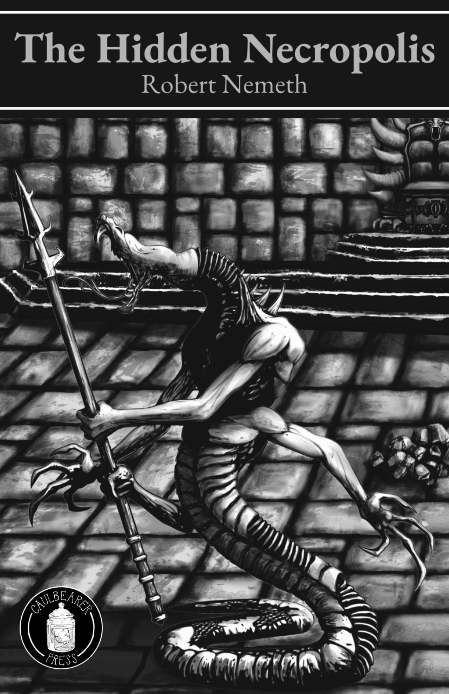 By Robert Nemeth
Caulbearer Press
Five Torches Deep/5e
Levels 3-5
Miners at a copper mine in the foothills of a large mountain range have discovered the remains of an ancient civilization and something more mysterious. A lone survivor of the mine arrives at the nearby town, but is delirious from his experience. Will the adventurers sent to unravel the mystery find out what dark fate has befallen the mine?
This forty page digest adventure uses about nineteen pages to describe a thirteen room dungeon. It is, essentially, combat, with a terrain obstacle or two. The descriptions are boring. The read-aloud fumbling. Today, only wishes are peces. WHich has nothing to do with the adventure.
There's a weird thing with electronic adventures: page count tends to be meaningless. Your appendix can be as long as you want. You can include as much supporting material as you want. Without limitations, the DM should be more capability supported. And yet … it STILl remains that that a high page count to room number ratio means, almost always, that the adventure will be a poor one. I don't know why. Perhaps it is some overemphasis on the NOT the adventure that is indicative? When effort is put in to places other than the adventure it can pad out the page count AND the adventure encounter, proper, suffer, if only from an academic standpoint. In the best case, the thirty extra hours you put in to the appendix could have been used to make the A adventure an A+ adventure, maybe. More typically, though, the adventure text is of rather poor quality and the investment in the appendix, etc, tends to indicate an over-investment in "other areas" … either the designer thinks the adventure proper is good enough or they think that the other material is just as good. None of which means you can't have a decent appendix, or supporting material, but, rather, are you SURE that the core adventure is as good as it reasonably can be? Or, at least, you are at the point where the law of diminishing returns means that you are really not returning much?
In any event, even in a digest adventure, where the page count ratios can be appropriately off, a high page count to low room number means something is wrong. And it's wrong here. The rooms are a little padded out with "direction text", telling us where every passage goes, what it looks like, how wide it is, and, generally, repeating the EXACT same information that is shown on the map. Yeah yeah, you like to know the room dimensions. But do you like to be told, in the DM text, where that south door goes, when a glance at the map shows that? "The closed door on the southern wall opens to a 20' hallway and to a second door to the mess hall, area 3." I don't get it. But, more importantly, the rooms are boring, from both a descriptive standpoint and from an interactivity standpoint. More time investment required.
The rumors are good; they are in voice. The wanderers are good, they are generally doing something, like a river troll who lures the party with the sounds of a drowning child. (I saw another adventure use a will o' the wisp like this once, I find both cases interesting.) This is though, just about the end of what the adventure does well. Sure, the bolding and bullet points of the text work well from an organization standpoint, but , all you get from that is something akin to a minimally keyed adventure: you can actually run it.
The read-aloud is in italics. It gives masic, fact-based descriptions of the rooms and can, therefore, be long. Long read-aloud is bad enough but when combined with italics it then gets hard to read. Hard to Read violates Rule 1: be useful to the DM at the table. Further, the read-aloud tends to place the party 'in' the action. "You stand before …" or "You come across …" This is just fumbling writing. That is then combined with the poor descriptive text to create boring scenes. There's no joy or mystery or wonder in those descriptions. "Large' is used as an adjective. Why do this? Why use one of the most boring descriptive words ever? I guess "big" was unavailable? "Cavernous" "titanic" "colossal", or something else, you get the idea. When the adventure DOES resort to better words we get text like "Blank eyes within a pale lifeless face stare in your direction [as they move to attack you.]" Blank eyes. Lifeless faces. Good! But it doesn't fucking do this. That line is the rare exception. And don't give that fucking "it makes the text too long" bullshit. It's your job as the writer to make it usable (which usually means short) AND evocative.
Ok, so, most room are full of "You enter and then … THEY ATTACK" nonsense. Stab stab stab. There are a couple of obstacles in a few rooms; a cave in, a pit/depression to negotiate, but interactivity is quite limited. Some room text has notes for the entire dungeon; the best example being one of the rooms telling the DM how to handle stuck doors in the dungeon. That would be better served in another part of the adventure, like, before the dungeon proper, maybe? Or, of course, we could always flip back to that page to figure out how to open a door … assuming we could remember the page. Sometimes it makes sense to put information inline … and sometimes it don't.
The dungeon/hook exists to lure in fresh adventurers to kill. *sigh* When did this become a thing? Is that really as original as a designer can get?
"Modify the read aloud" says the read aloud notes "based on which entrance the party arrives from, east to west and so on." Or, don't buy/run the adventure. That's another option. Ok, so, that's mean. But I grow weary of Execution Not Meeting Vision. I'm being overly harsh on this one, it does use section breaks, bolding and bullets effectively. It has an idea. I'm just in a shitty mood today
This is $4 at DriveThru. The preview is five pages. You don't get to see any of the encounter rooms, which is a miss. The preview should show you at least one room.
https://www.drivethrurpg.com/product/322266/The-Hidden-Necropolis?1892600