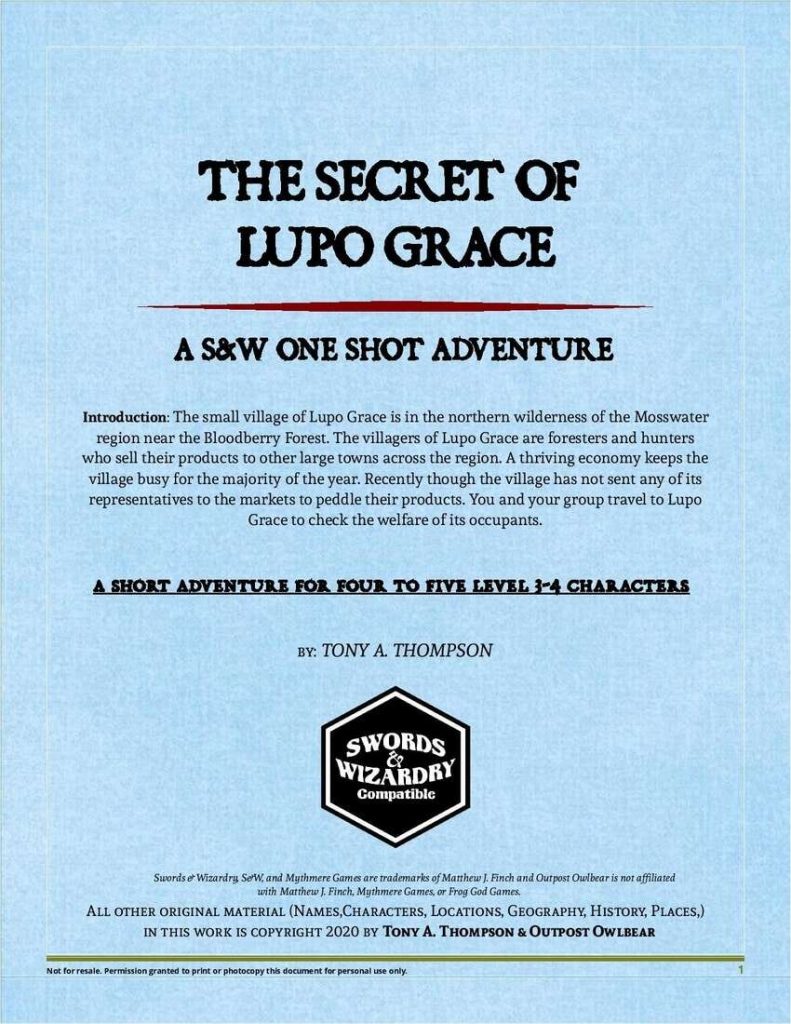 By Tony A Thompson
Outpost Owlbear
Swords & Wizardy
Levels 2-3
The small village of Lupo Grace is is in the northern wilderness of the Mosswater region near the Bloodberry Forest. The occupants of Lupo Grace are foresters and hunters who sell their products to other larger towns across the region. Recently the village has not sent any representatives to the various markets though to peddle their products. You and your group are sent to check on the welfare of the village and its occupants.
This five page "adventure" has two combats, unrelated to each other.
Because I'm an idiot, that's why. Because I believe. I have hope. I know that good things can come in small packages. I know that we have a wealth of good adventures today compared to the early days of the hobby. I know they exist and I want to believe that every single adventure I review is one of them. Seriously. My crushed expectations? Not fake. How else could I keep this up if it were any other feeling?
You're going to a village to see why they've not traded in awhile. You see a wagon, hit by bandits. Driver obviously dead. Four bandits interrogating a woman. They tell you to back off. She runs behind the wagon, the bandits engage you. Then she runs out and stabs someone in the party, laughs maniacally, turns invisible, and runs away. This initial encounter is totally unrelated to anything else in the "adventure." Just some bandits, who have evidently set up an ambush, and their leader can somehow turn invisible. The wagon has a locked box with some documents in it related to the village. The adventure says they may help once you get to the village, but that it literally all it says about them and they are never mentioned again.
The village has an absence of men and teen boys. They are all working out in the woods, cutting lumber, you're told. You are encouraged to stay the night and go the next morning to see them, if you want to. It's assumed you do; there's no advice otherwise. Someone screams while you're in the tavern. Outside two werewolves and five villagers threaten a boy, and they attack you. This is the end of the adventure. Turns out some werewolves moved in nearby and they are threatening the villagers if they don't cooperate. That's not covered though.
Werewolves are 4HD? Hit only by silver and magic? With five charmed villager allies? For a part of level 2's? Uh huh.
What's the point of this?
Why stop at what is essentially just an opening encounter? It's just a hook. There's nothing more. There could have been some bandit shit, aligned villagers, scared, rebel villagers, the werewolves in the forest. A mini-dungeon. Real lumberjacks. Maybe some a witch, I don't know. But instead, it's just two unrelated combat encounters.
You've got a lot of choices with your D&D. Why would you ever take a chance with anything someone has not reviewed, when things like this lurk around every corner, ready to surprise you? Well, I guess, it's not a surprise anymore. It's expected.
This is Free at DriveThru.
https://www.drivethrurpg.com/product/307867/The-Secret-of-Lupo-Grace?1892600