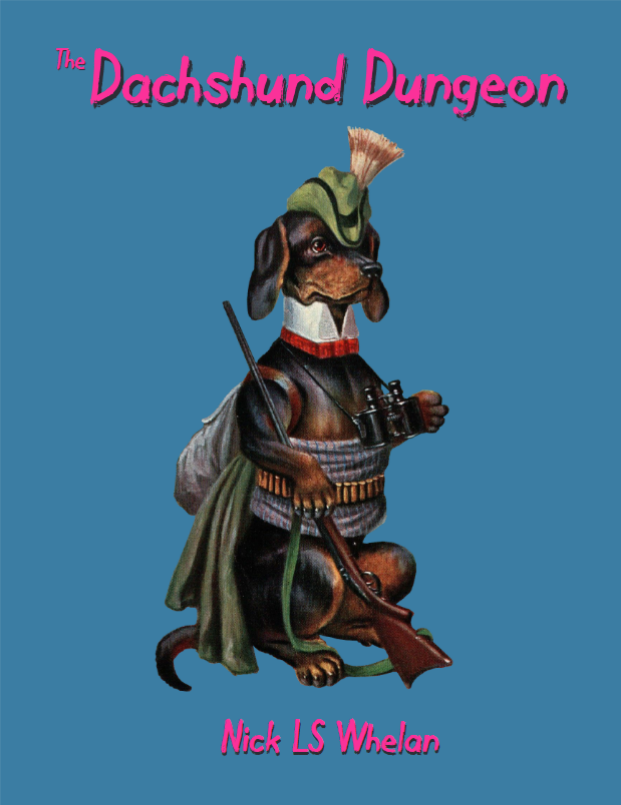 By Nick LS Whelan
Self-published
OSR
Level ?
Send your players to visit the cordial society of the Gentledogs. Presently they're beset by a moral quandry: trying to live up to their own values while pressed on one side by imperialist forces from the Underdark, and on the other by a treasonous wizard attempting to engineer a fascist coup
This eight page adventure features a fourteen page dungeon described on one page. It's full of intelligent dogs. Pugmire, then, I guess? But it implies it is not? And the dogs have guns? Anyway, it's all Stonehell style, with a few intro pages and then a half page map with a page of keys. The key descriptions are pretty ok, focusing on what they need to. But I have to ask: why? And to what end? It feels hollow.
These little dungeons are always hard to review. Both from a size and a page count aspect, but, not this one I think.
So … Pugmire, I guess? Pugmire is OSR now? I mean, the dungeon has a backstory, it's full of intelligent dogs, they have rifles and pistols in a kind of 19th century England landed gentry kind of way. There's no level range mentioned anywhere on the cover, description or product … It's clearly D&D-ish with morale .. .but something else called the Hatespark? The backstory implies that the dogs were created by a wizard though just to guard the dungeon. So … I have no fucking clue what is going on here. Lets' make them Mushroom-people with swords and bows and take care of the entire thing.
The backstory is a bit humorous. To quote: A couple hundred years ago a wizard who could feasibly be described as "good" defeated one who was "bad," but could not kill her. This is the kind of DM writing I can get in to. It's Just a few little enhancements to the verbange and punctuation and you bring so much more to an otherwise generic backstory. This is great, and it's a good example fo what I mean by focusing the power of your writing and brining detail and specificity and colour without adding a lot of words.
And then there's the hook-ish/intro to the dungeon. There's a tunnel in the sewers. It's long. No one knows where it goes. It takes two days to traverse it to get to the dungeon. Smarter than your average sewer adventure; the sewer is just the front door.
Five and a half pages in to an eight page adventure and we get a small fourteen room map on half a page. A couple of loops. A crevice running through a couple of rooms. It's serviceable, not stellar.
And then the room keys start, all on one page … with room for art at the bottom. I'm going to bitch a bit about things left unsaid in this adventure, and I feel like there was some internal constraint that the room keys only take a page. Which is too bad; the problem with all one page room keys is that they are limited by their format. Basically the judgement comes down to "Is it good … FOR A ONE PAGE DUNGEON? The "for a one page dungeon" has to be added on to every statement. Why do that? The one-pagers are, essentially, performance art. Why constrain yourself if you don't have to? (Says the six page dungeon man.)
The room keys are pretty good though, at lest when it comes to conveying evocative flavour through terseness. The first room is "1. Metal hatch opened by a wheel. Pipes to the left and right expel sewage into the tunnel." I can visualize that. I can run that. It's at least three details: hatch, pipes, sewage, all in one line of text that takes us less than the full width of the page. Or maybe "Chugging water pump pulls water up from underground streams. Bedroll in the corner, dirty plates stacked beside it." Short, terse. These could both be better, but they ARE a great example of how a terse room description can be both scanned quickly and be evocative at the the same time. It's not really mundane detail. It's not really trivia, or useless backstory. It's focused on the meaningful parts of the room and at least an ok description of them. (Ok, of course, being a high compliment from me.)
Treasure and creatures, though, suffer from this format. They tend to be more abstracted. Treasure are described, such as "L: White lace hemmed with gold is draped along the walls. These curtains are delicate, religiously significant, and valuable." That's your treasure. For a generic adventure I'd say that's pretty well, and given the dog-stuff and rifles, I guess not assuming a system is a good thing. It's also feels abstracted to me, with the conclusions of the curtains rather than a description of the curtains, and I never like that. In addition the creatures are somewhat lacking in motivation. You get a half page or so write up on the races, but the specific creatures lack motivations. They feel like they wait in their rooms, behind a glass wall, for the party to look at. There doesn't feel like there's any tension. There's one "baddie" of note, at the very end, but even he comes off like not having any tension. This could have been a dungeon that was a political boiling pot, ready to explode. Parts of the intro imply as much. But then, the rooms don't do anything to help that along. Eight dogs discussion philosophy. Ok. It reminds me of that chess room in Dwimmermount, where nothing happens.
The whole thing needs a good SHOVE.
This is Pay What You Want at DriveThru, with a suggested price of $2. The entire thing is in the preview, all eight pages, which is GREAT. You might check out the room keys and jusge the writing for yourself. I think it's tending toward the good side of the evocative spectrum, which, I also think is perhaps the hardest part of writing adventure keys.
https://www.drivethrurpg.com/product/276120/The-Dachshund-Dungeon.?1892600