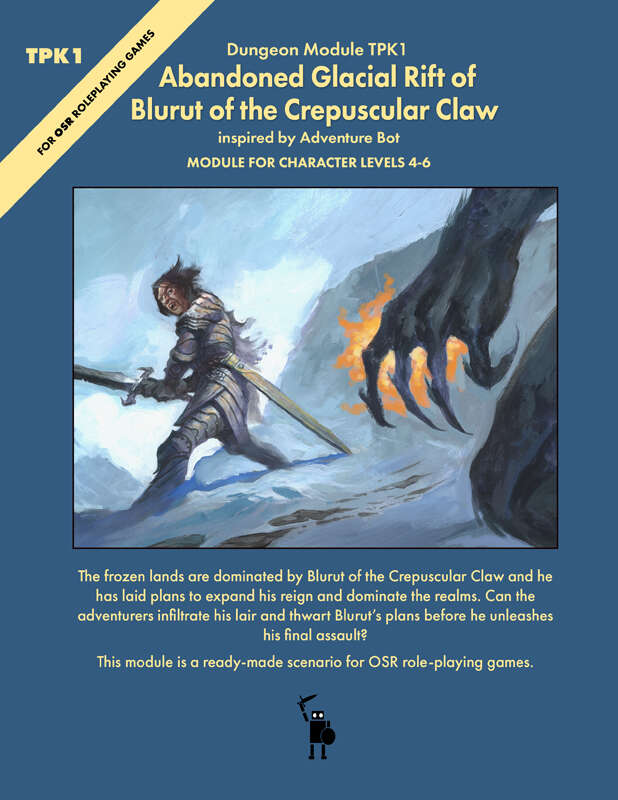 By Thomas Denmark
Night owl Publishing
Labyrinth Lord
Levels 4-7
The frozen lands are dominated by Blurut of the Crepuscular Claw and he has laid plans to expand his reign and dominate the realms. Can the adventurers infiltrate his lair and thwart Blurut's plans before he unleashes his final assault?
This 24 page adventure uses six single-column pages to describe a sixteen room linear set of caves at the bottom of a rift. Stefan says: This adventure has it all! Single column, low content to page count ration, linear, & disorganized and long writing.
This is a stunt dungeon. There's this twitter bit, evidently, that creates rando dungeons. The designer took that and then augmented it in to a dungeon. I have no idea what kind of job the twitter bot does. I'm a big fan of "using inspiration" to create something. I find that "anything is possible!" generally results in a THX mindlock for me. Give me just a little bit to start from and I can create connections and expand content seemingly at ease and on demand. I've experimented with this a bit in the past and thus was interested to see how someone else does it.
Meh.
Long introduction describes a slightly generic northlands. Long appendices detailing monster stats and a couple of ideas for adding to the dungeon. Single column throughout in a decent font size, hence the high page count and low content count.
The actual dungeon is linear. There's a connecting passage from room two to room sixteen, the last room, but it's filled with rubble and you can't dig it out, it keeps collapsing. So why is it there? I don't know. This is a cave system map, fully linear with just a couple of off shoots. There's little extra detail, elevation changes, of anything else in it. It is, essentially, a linear set of dungeon rooms with some yeti's and ice. I would have wished for some elevation stuff, but, maybe that's a feature of the bot? Oh, no, I just looked it up. It creates a name, that's it. Hmmm. I now regret my choices.
The rooms are full of history text that add nothing to the adventure. "This room was once a …" "This room was as far as they … "
Combine this with the conversations style and if/then's. "After the fight, if you dig through the rubble …"
Combine this with boring word choices and abstracted descriptions. "There is a large block …" "Mysterious runes are carved …"
Combine this with a lot of "it seems to be …"
And then add A LOT of text for the most of encounters, like some wolverines attacking. Or a room with a ghost.
There's just not much going on here. The design is linear. The rooms not very interesting. The rooms not described very interestingly. What there is is either abstracted generalisms or LONG abstracted conversational writing. It doesn't feel like much of an effort was made at all. Maybe there was. But it doesn't feel like it.
There is no hope. The bread and circuses are over. All that's left is the mundanity.
This is $3 at DriveThru. The preview is six pages and shows you nothing of the dungeon, so it's a bad preview.
https://www.drivethrurpg.com/product/305423/Abandoned-Glacial-Rift-of-Blurut-of-the-Crepuscular-Claw?1892600