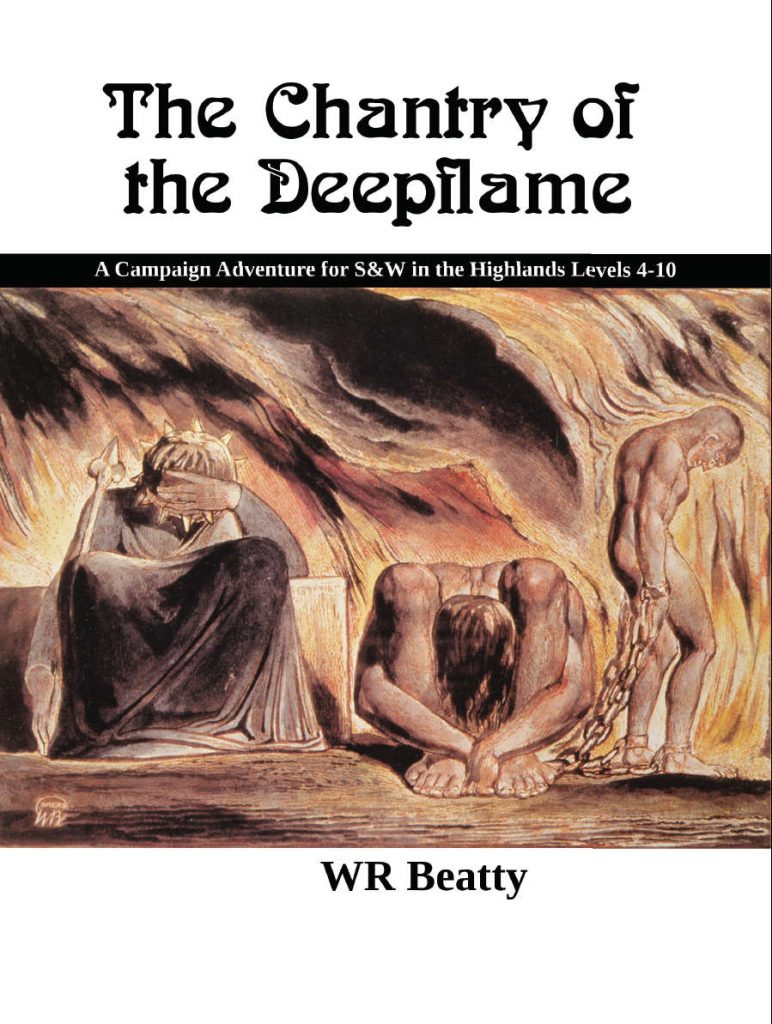 By WR Beatty
Rosethron Publishing
S&W
Levels 4-10
A legendary Dwarf temple in the Endless Mountains, north of the Rosewood Highlands, The Chantry of the Deepflame was abandoned generations ago when a plague decimated the Dwarf people. Now overrun by a particularly nasty tribe of Goblin-kin in service to their powerful Godking, the Chantry ruins call to the brave and the foolhardy, treasure seekers and glory-hounds who will surely find what they seek in the dark and crumbling ruins of this once glorious Temple.
This 244 page adventure is a fairly well done description of a moria. The above ground portion/wilderness journey is confusing but you can tell it's magnificent in its scope. Below ground, also, is great in scope, and more comprehensible. Writing can be long, though whitespace and bullets mostly help. The writing proper can be a bit on the dull side and the interactivity feels a little combat oriented, maybe with some faction play roleplay elements. Puzzle-ish/things to mess with feels sparse. Reworked, it could be quite an interesting achievement. The closest thing to this would be that big harback Rappan Athul
So, it's a big underground dwarf complex, with "deeps" and is full of goblins/and their ilk. Also, they are ruled by a balrog-like thing. Also, some of them don't like being ruled by that thing. Also, there's an entire area ABOVE moria that is pretty damn large and complex, which adds to the complexity of the place. Also, that portion feels like a confusing mess.
This thing. I don't even know how to start.
Ok, so, to get to a moria you have to travel to it, right? And it sits in the mountains, right? So, obviously, there should be an overland journey, right? Well, there is one in this. Tunnels, cliffs, waterfalls, bridges, towers, keeps along the way. There are, I don't know, a dozen maps pages all related to the "overland' journey? And even after studying things for half a day I still don't really know how they all work together. There are two primary overland "overview" maps. One is hand drawn in pencil and scanned in with computer-added numbers. It's legible, but you don't really get the sense of the topography. Another one is in full color and show the landscape well, from a kind of iso-metric view. I'm STILL not certain is they are meant to show the same places? Maybe? Then there's all the sub maps. I have no idea. I have no idea how they fit together. I have no idea how they go on the map. The maps themselves range from little hand drawn things, to nice cave and dungeon features drawn on them, to complex maps with no numbers on them that are then textually described. The map variety is great, both in features and some elevation/fitting together and overall complexity. Things are substantially better once the action moves in to moria-proper. I feel like, inside, I can keep a better handle on how the mpas fit together and work together. The variety and complexity is GREAT, that much is immediately obvious. But man, it needs a serious re-work for comprehension, in how it all works together. That's MOSTLY an issue with lack of summaries/overviews in the text, but the titles for the maps to help contribute to the issues . "Area ten map two." "The Riverwalk." Uh. Ok. I have no clue.
The sections really needs a little more overview and or summary attached to them to aid in comprehension, how they work together, and how they are to be used. As is they feel like stand-alone vignettes. I mean, they all are related to the ongoing goblin situation infestation, and have some inline notes about warning other/other areas, and their relationship to the whole, but HOW the specific area fits in to the whole seems to be missing. Or, maybe I'm just still bitching about how the maps fit together?
It feels like the outside portion was written at an earlier or later time than the core moria-part. Even the formatting and layout looks different. The outside section is extremely bullet point heavy, in fact so much so that I'd say that IS the format chosen. The interior portion is more of the traditional paragraph form with decent para breaks and use of bolding (for creates, mostly) and bullets to highlight lists of things. Both are fine, in theory.
In this case it seems more like a fire and forget writing attempt was made with little to no edit for better comprehension and usability. Things are bullets that I would have combined with another item, or things are included that could have been left out. The ORDER is generally ok, with most obvious things first, but it still feels like the writing is substantially more expensive than needed. Simple encounters take a quarter column while an entire page is not unusual for some.
In spite of this length there are still comprehension issues. I mentioned the lack of summaries/overviews, and even map connections are an issue. The first "underground" portion that leads to moria ends with room 18. The map shows a dead end in that room but the text says it can be approached from either direction. It implies, as strong as possible, that moria's that-a-way, but it doesn't tell you where or how it links up. In other areas entire numbers are skipped over. Basic, basic editing issues combined with the lack of a "agonizing cut" edit combined with alack of an edit to add to the evocative nature of the descriptions.Large chambers abound,
Other things left out include general notes about a rebellion, with most of it being left to the DM to wing, beyond some rough "factions alliances" data. Given the degree a rebellion is name dropped then a page of how it throws down would be nice.
It does do a great monster stat sheet. Wanderers are doing something. There's a NPC summary section well laid out. Treasure decent to good both in new mechanics and in descriptions. There's even a "shit going down in Moria" table, like, the watcher in the water is loose in the dungeon and how the goblins react, etc. Great emergent play possibilities.
But this needs a hard hard edit. One for comprehension, one for usability, one to punch up the writing. AT its bones this is a really really great environment, but you're gonna have to study the outside, and take copious notes (on at least reactions) inside in order to run it. It DOES approach mega-dungeon territory in it's size, or at least "major campaign tentpole" and thus putting some work in to it would yield repeated results.
Look. You can actually see me try to waffle on this and talk myself in to it. The ideas here are great. Some of the interactivity and setups are magnificent. A little combaty, but still great. I really really really want to like this. And maybe i DO like this, at least in theory. But I can't see myself ever actually running this. It's going to be too much effort for me to prep. It feels almost like a first draft, in the quality of its writing. (Layout wiseiots ok.)
This is $7 at DriveThru. There's no level range anywhere in the description, but at least it's on the cover. The preview is seventeen pages. You get to see the first underground area, the bullets, the writing style and layout and quality, the unnumbered keep map, and "the crevice", which Istill can't figure out how it works. This is a good preview of those sections, representing the quality of what you're getting. It doesn't show "moria proper", and as I said I think things improve quite a bit there. You could buy it just for the insides, but you'd loose all that glorious outside, and still have prep issues.
https://www.drivethrurpg.com/product/280123/The-Chantry-of-the-Deepflame?1892600