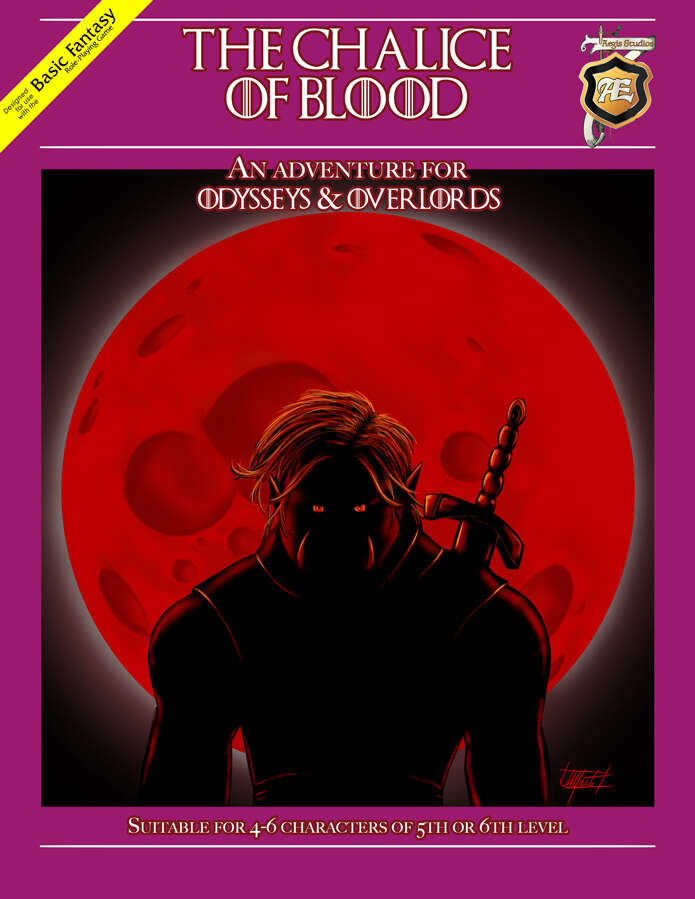 By Megan Irving
Aegis Studios
BGRPG
Levels 5-6
A group of Ragnar cultists have found a magical relic, a chalice that can never be filled, and are using it to lure treasure hunters and adventurers to their lair. Foolish adventurers who take the bait and come to the lair are hunted by the monsters guarding the chalice, and are then sacrificed to Ragnar. Leftover bodies are then given to the wyvern lurking in the cavern's depths. […] The chalice is a magical artifact – when liquid is poured into it, it vanishes. If the command word is spoken while tipping the chalice, any stored liquid pours freely out of it. Unfortunately, it's currently full of blood, and nobody knows the command word.
This twelve page adventure contains a small twelve page dungeon described in about four or five pages. It's doing several nice little things throughout to create an interesting environment, from the map to the encounters. Decent enough for a little dungeon.
"Cultists. Ug!" I thought to myself. But, wait, Bryce, don't you like human enemies? Yeah, but why the fuck are they are always cultists? But, what if they had a slightly different twist? And thus Megan wrote this adventure.
The cultists here are craven little shits. To quote "Overall, the cultists prefer not to fight. Instead, they beg for mercy and give the adventurers as much information as they want." Also, it gets the adventurers to go deeper in where they'll get killed, solving their problem. But, still, there are cultists begging for mercy all over the place, hiding under their desks, pleading, acting badass and then collapsing at the first sign of blood. It's cute. I like it. It adds a good roleplay element to the adventure and dungeon could just about always always use some of that. After all, you can always stab them later.
Speaking of, there are several decent little roleplay things going on. The guards outside, if approached, ask the party to leave. And then they stab the shit out of the party if they do so, but, hey, are you seriously trusting two bugbear guards? Inside there are some crmag slaves too talk to. One little room has a guard room of slaves sitting around a campfire. I imagine they do everything possible to NOT see the party. That could be quite fun. It's nice to see this in the adventure. Not comic elements but elements that get the party ENGAGED in the adventure rather than just another room of things to kill and loot.
The map makes an extra effort. Differing levels, flowstone stairs, tunnels, different elevations, even a simple loop or two. And … it's got monsters marked on it! Just a simple icon to show which rooms have monsters, so you can react them as appropriate to combat next door. And, speaking of, there are roaming patrols and a simple order of battle for the place. Nothing too complex, easily implemented, and just enough to add some realism without it being simulationist.
This sort of extra little design is present in a couple of areas also. The wilderness encounters, on the way to the dungeon, stand out. This part is handled in some very short text. It tells that that the party passes through three general types of terrain and they will have a wandering encounter in each … and then a four entry table is provided … not all of which has to be combat depending on how the party handles this. The terrain and journey proper is handled through some overview text, such as "The Plains: Where many of their previous adventures have likely taken place – a vast plain of small hills and brush. At first glance, it seems empty, but behind every bush or hill is something strange – two goblin scouts working on a trap, a ruined village full of undead villagers, bandits arguing with younger adventurers." That's it. I must say that if you are not going to have a full on wilderness part to your adventure then the format here is quite nice. Some little comments for the DM to add a little extra flavour to the parties adventure if they want to and a wandering table that recognizes the linearity/quantum aspects of the adventure type. There's no disconnect here of having a twenty entry table over two pages of which nineteen will never get used. Given the design choices made the degree of text makes sense. And I don't even mean that in a backhanded compliment way. I think it's a fine way to handle an overland if you don't want to include a full on one. It's good.
Magic items are nice also. The one that stands out is a little bone circlet fetish, near ogres. It lets you cast darkness once a day and recharges at midnight. Nice theming there, both with the crude construction bone fetish thing tie in to the ogres and to the darkness recharging at midnight. Another example is some cromags having a rough stone circlet amulet things with a hole in the center for a thong. The magic items kind of theme in well with where you find them and what they do. And they do it without droning on for a paragraph. And since I'm on rewards I'll mention a "conclusion" award. If the party frees the cromag slaves then they will spread the word and in some hour of need a mighty cromag warrior will show up to help the party. That's the kind of end of adventure boon I can get behind. It fits in well, is non-mechanical (ug: gold rewards at the end) and it doesn't enforce morality so much as kind of deal in consequences for actions. There's no promise, but good returns on itself. A good boon reward.
The descriptions of the encounters are generally ok, or at least start ok. Nice and brief, flavourful. The DM text (ok, it's all DM text, but, rather, the "further details" text) does get a little wonky. It looks like Aegis has some kind of house publishing style that is bolding certain things, like "2 potions of healing", IE: the common magic item bolding format. Better, I think to bold keywords in a section/paragraph to let the DM know what that little blob of text is about then to bold something meaningless like treasure. This might be the major fault of the adventure, as well, perhaps, as being a bit of a reach of having cultists, bugbears, ogres, cromags, and a wyvern all running around in a 12 room dungeon. IE: the pretext could be just a bit better. But … we're now pretty much in the realm of that elusive fourth pillar of adventures: holistic design.
Decent little adventure. I would not think shitty thoughts if I were asked at the last minute to run it at a con. The … pretext? Around the mixed monsters is a little light and the DM text a bit wonky in places, and that's making me ask the question about regerts. This adventure isn't life changing but it is a solid one. Again, I wouldn't bitch if I had to run it. That means The best, I think.
This is $2 at DriveThru. There' no preview. PUT IN A PREVIEW!!!
https://www.drivethrurpg.com/product/302576/The-Chalice-of-Blood?1892600