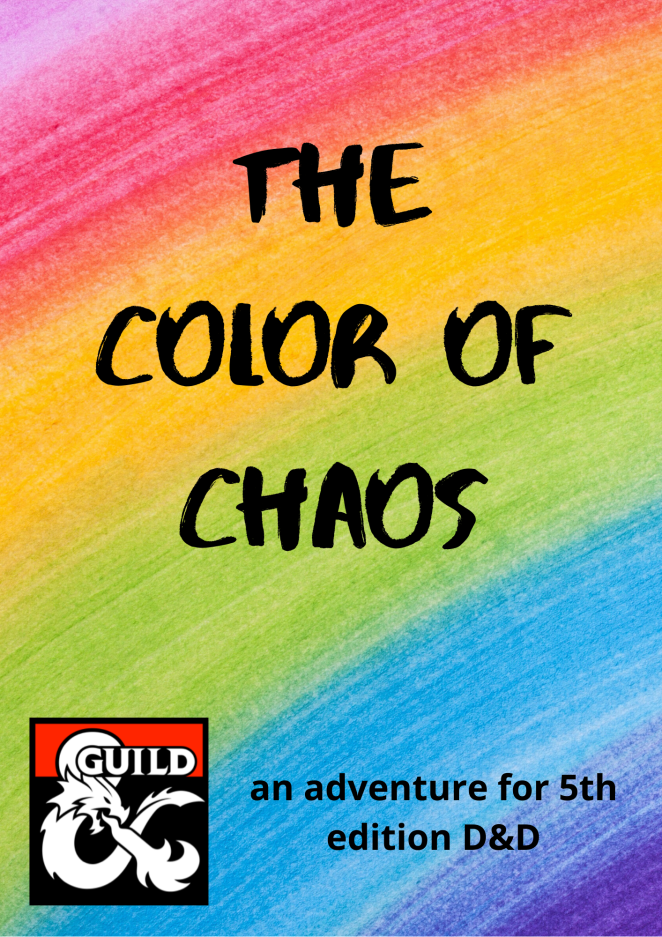 By Spencer Crittenden
Self-Published
5e
Level 2
What power lies behind the mischievous colored constructs marauding the Prang Manor? Find out in this colorful and unique single session adventure module that can be run on its own or added to an ongoing campaign!
This 28 page adventure takes place in a thirteen room manor home. Two-dimensional crayon monsters are attacking people, traced back to the manor. Decent organization and descriptions are high points, while the tone is going to be the hardest thing to overcome.
So, right off the bat we have this statement in the adventure from the designer: "… Is meant to bring some light fun without completely upturning the fantasy and suspended disbelief of D&D." And that is the core issue of the adventure. The adventure revolves around a 2 year old kid who has found some magic crayons. Thus we get scribble monsters in crayon, two-dimensional, and other challenges like drawn gold coins, colored in doorways, crayon-drawn watermelon bombs and the like. Your ability to enjoy this adventure is going to directly relate to your ability to handle those elements and handle something on the silly side on your D&D game. This is too much for me, but maybe you're different. I will note, however, that the adventure description on DM's Guild could be more up front on these points. As in: it does not mention them in any way, shape or form. Expectations are everything and if you go in expecting a "normal" adventure only to find this silly one, well, you're not likely to be a happy consumer. This, ultimately, was the problem with the Great Betrayer: WG7.
Beyond two-dimensional crayon-monsters drawn by a two year old, there is also the "magical world" tone. The kids parents are stuffy pants arts lovers who ignore and pamper him and have a set of Nystuls Magical Crayons in the attic. (Hmmm, found, perhaps, in the still yet to be delivered Infinite Dungeon … not written by Mike?) There is a Wand of Scrubbing hanging in the kitchen that refreshes three charges a day and is kind of like a magic eraser. Sovereign Glue. EVerything oriented around this kind of setting where magic is common and you use +! Toothpicks at dinner that are then thrown away down your Sphere of Annihilation garbage disposal. Again, another niche setting to contend with.
Many things I normally take issue with in an adventure are NOT present. Information NPC's can relate to the party is given in bullet point format, making it easy to find and relate. Monsters have an emphasis on their descriptions, and the descriptions that matter to the party, instead of backstories that will not come up during play. Encounters are well constructed with several elements. One room has statues in it and short rules for shoving them over … and monsters behind them to shove them over on the characters. The manor home gets a short little overview, something for the DM to relate to the party to give them a glimpse of the manor "as a whole" to get them oriented to it and where they should begin investigations. This is a kind of "I'm standing on a hill looking down on a manor, what do I see?" sort of thing that more adventures could do more with. Rooms have hints in descriptions, with one standing out as having black cracks in the walls … which of course have some kind of trap in them.
There's also a decent progression in room descriptions, from a general overview for the DM to bolded sections that expand on the information given. THis is a good organization technique, putting what the DM needs first in the first section of txt and making it easy to find follow-up information.
Treasure is pretty good, from the magic crayons (The entire box of which may be overpowered for level two's) to a magic stirring ladle to a masterwork greatsword with an adamantium hilt like an orchid. There's an emphasis on the non-standard, on descriptions of effects (like the ladle) instead of mechanics, and in making mundane items, to be looted, in to something that the party may actually keep instead of just selling. Not the best implementation but definitely better than most adventures.
Interactivity tends to combat and a couple of puzzle/riddles. That could be better, although the encounters are decent and layered. The first is with a candyman who is trying to run away with a gnome merchant. He has some buddies. He can throw a watermelon bomb. Appearing out of the bomb is a tiny man holding a knife and flintlock pistol. When's the last time an adventure encounter had that many layers?
There's also some other issues, beyond tone. Some of the background imagery in the PDF is yellow, which makes the text hard to read. There's also a time or two where things are missing from the general room overviews. A monster here and in one place the parlor furnishings and and an old chest that comes from out of nowhere. So, a lack of consistency, but these seem like infrequent mistakes, more akin to typos than a fundamental lack of understanding in how to write an adventure. Some of the read-alouds get long and the DM text DOES get long in places. Manageable, though, because so much of it can be ignored, and, as I said, the progression from general to specific and bolding helps organize it.
There's a reason for this. Spencer, the designer, has a following. I know him from the animated HarmonQuest Tv series, but I take it there was a progenitor series as well, maybe podcasts or youtubes or something? You can think of these as Actual Plays, in the vein of the others like Critical Role, etc. Thus he is bringing to the market a whole slew of people who genuinely have NOT played before and ARE noobs. I'm a bit more tolerant in this situation of text aimed at a new DM, much more so than an esoteric OSR title that will not be seen beyond a few diehards. Still, there are better ways to accomplish the goal of orienting completely new players/DM's while retaining a format that is easy for them to run. No one needs to be told, on something like eight separate occasions, that the kids parents are wealthy dilettante aristo's.
Spencer has one title to his name: this one. Either he is the greatest natural adventure writer ever born or there is an uncredited editor attached. And even if that's so it's much better than I would expect even WITH an editor attached. The tonal issue and the longish text put this on the edge of No Regerts. But … if you were looking for a light-hearted one-shot? Absolutely, I'd run this.
This is $6 at DMsGuild. The preview is six pages. It shows you the bullet point NPC data overviews, the intro read-aloud that I think is a bit long, the longish DM's text, and the first encounter with the candyman and the watermelon bomb, etc, a couple of room entries, including the statue encounter, and some art that is evocative of the monsters encountered. As such it's a GREAT preview in that it shows you EXACTLY what to expect from your purchase. More designers/publishers could follow Spencer's lead.

https://www.dmsguild.com/product/296456/Color-of-Chaos?1892600