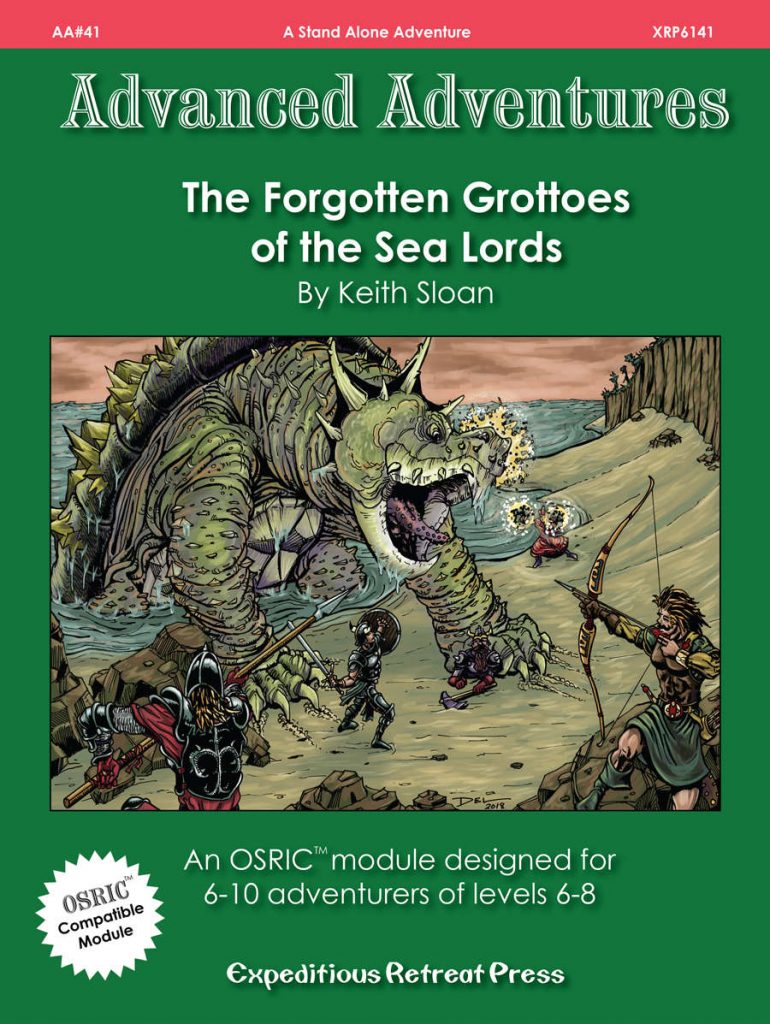 By Keith Sloan
Expeditious Retreat Press
OSRIC
Levels 6-8
More than a century ago, the evil Sea Lords ruled this region. They were cruel men, devil-worshippers who practiced vile rites and were the terror of folk across the seas. But, like most tyrants, they were at last thrown down, their strong places sacked and destroyed. Now, they are little more than a name of fear and loathing. Little of them remains, but sometimes an isolated hold or other location is discovered, most filled with plunder from decades of their reign of terror. Your party has acquired a treasure map purporting to show the location of one of the Sea Lords old holds. While most were sacked and plundered long ago, this one seems to have been missed. With luck, perhaps some of their vast treasure remains for the taking!
This nineteen page adventure contains a two level dungeon with about 120 rooms, at a density of about eleven to a page. It is, essentially, a minimally keyed affair with brief expansion of details in areas. "Book Standard", where that is defined as the usual monsters and +1 shields, expanded with a few new ones in each category. These sorts of adventures always make me dream of what might have been.
This adventure forces a key question in a way that few others do: where is the minimalist line located? Let's say I create an interesting interactive environment, but use language that only a first grader could understand … is that a good adventure? (And I don't mean that as an insult, but rather to illustrate clearly what I'm going for here.) Plain language, tersly delivered.
We can see in this some of my key design points. Terse generally means it's easier for the DM to run. Great! Interactive means there are things for the party to play with. Great! Appealing to the lowest common denominator in language use? Well, there goes the Evocative pillar out the window.
But this isn't just a list of random die roll monsters thrown on to a map. There's design here, hence the interactivity. Pits that lead to elsewhere, dangerous traps. Factions in the dungeon. A great map with multiple levels and areas. It works and fits together well.
Keith must be the perfect writer for XRP; their styles seem to marry well. The minimalism in the writing tends to be a "feature" of many (most?) XRP adventures. I clearly don't get what Keith and Joe are trying to do. Or maybe I do and I just strongly disagree with it. Strongly.
I would, an do, assert that the purpose of the adventure is aid the DM in running it. A key portion of that is jamming an idea in to a DM's head. Stabbing in an idea. Making the DM grok it at a fundamental level. The DM can then riff on it, expand it, and fill in the edges of it. They then bring it alive to the party as the idea runs wild in their mind. That requires decent writing. "This tomb contains eight rough- carved stone biers, upon each of which rests a sea wight." That does not bring the room alive for me. It's not bad, and it's certainly not being TOO verbose, which is the more common problem. But it doesn't make me excited about running this room. It feels like a slog to do this, room after room, for a hundred rooms. I want something just a little more colorful. Just a handful, five or six, extra words to bring the place alive. This seems like it is fact based. "There are X things here on Y objects." I think I want something almost like impressions. Fuzzy descriptions. Some balance where the important parts are preserved (eight sea wights) but there's some impression delivered that fills my mind with mystery and wonder and it races to fill it in and imagine it. This ain't that. At all.
There are other touches, though, that are great. You can pick up "hangers on" spirits that follow you around and, of course, too many is a bad thing. The map is great, with multiple entrances and areas and loops. The faction concept is always good, although it could be better implemented here with goals, reactions, and orders of battle. There are a few things, outside of the factions to talk to, and while "betrayal" is too common, at least some will just run away with the loot instead of killing you.
There are some general atmosphere notes up front: "The air throughout is cold, damp, and smells strongly of the sea in the worst sense, with a heavy smell of briny rot throughout." This would have been great added to a map, to always keep it fresh in the DMs mind to add to rooms and hallways. And a wandering chart noting that a monster appears from a nearby room is good also … but that requires to DM to them go hunting for a nearby room.
Indicative of the language issues are two common things: a large wooden chest and the Room Titles. "The liches Lair", while factually correct, conveys little of the atmosphere that I think a good description should contain. And using the words large, small, red, black, and so on should, generally, be minimized. There are better words to use than "large wooden chest" that would have conveyed a more evocative environment.
This is $14 at DriveThru. For $14? No. But, let's say it was ALWAYS on sale for $7? Well, no, not unless you've got a hard on for this minimalism. AndI know some of you do. The preview is four pages. The last two show you the first level map (great map!) and the first eleven rooms. Good preview. It's indicative of the writing you'll find within.

https://www.drivethrurpg.com/product/274219/Advanced-Adventures-41-The-Forgotten-Grottoes-of-the-Sea-Lords?1892600