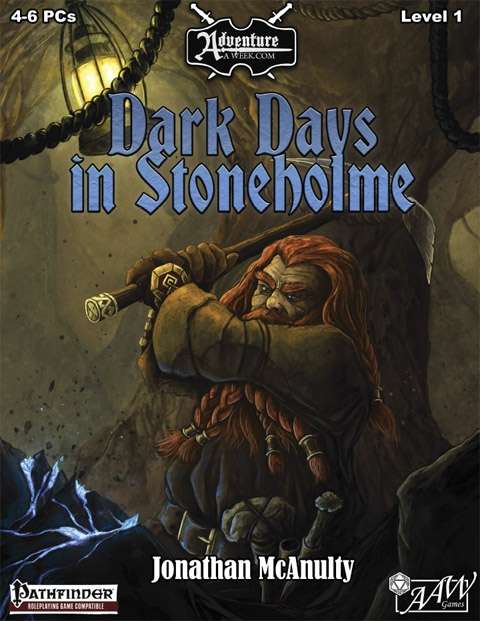 By Jonathan McAnulty
AAW Games
Pathfinder
Level 3
Waves of supernatural darkness sweep over the subterranean city of Stoneholme, quenching lights and bringing with it foul creatures of shadow. After heroically defending a group of dwarven children from being ravaged by a group of these shadow beings, the PCs are approached by Shtawn Deppenkhut—one of the king's own advisers—and are offered the task of finding the source of the darkness that threatens the city. The PCs investigation takes them through the Underworld to hidden caverns, where demon worshipping priests offer living sacrifices in an attempt to plunge Stoneholme into everlasting darkness, a first step in destroying the hated city once and for all, but as it turns out the priests aren't the only ones behind this unfolding plan to destroy Stoneholme.
*Withering Sigh*
This thirty page adventure details an eleven room dungeon in the underdark, and a couple of linear city and "journey there" combats. It shows no understanding of formatting or organization, other than the stat block. Wanna fight? That's all you'll be doing here.
Evil McEvil-man hires the party to look in to some evil. He's got an evil plan and, for some reason, hires the party to meddle, no doubt to further his evil plan. This is like, what, the six billionith time an adventure has done this? Whatever. It's all crap anyway. SO you save some dwarf kids from baddies in the streets, get hired to look in to a warehouse, and from there get hired to go through the underdark to kill some goblins in their lair. Then you find evidence that … some fellow dwarves were behind it all! Oh the humanity! Errr, dwarfmanity.
The typical massive amount of stat block place is present. Also present are HUGE amounts of poorly formatted DM text. Just long paragraph blocks full of words running on and in to each other. The paragraphs are all left justified as well, so you can't really tell where one ends and another begins. Excellent for for making your content as incomprehensible as possible. Seriously, this thing has NO idea how to format a paragraph or convey information. To quote Gauntlet "I have not seem such bravery!" or something …
Information is repeated time and again for no reason. Dwarf construction is weak-ass stuff, wil recent constructions breakings. Huh. I thought the trope was the opposite? Shadow rats, which could be cool, get no description at all and instead are just black looking rats. There was some real opportunity to generate horror and mystery with them, but no. Not to be. At multiple times in the adventure there are DC check gates. AT the end, find a DC14 letter to reveal the dwarven conspiracy, the rest of the adventure/dungeon essentially just being a pretext for this skill check. I wonder what would happen if the party failed it and the DM didn't fudge it? That would be fun.
This is just crap on top of crap. Linear design. Fight a monster because it's in your way and you're on the way to that final skill check. Combat after combat. Tactical information but no real exploration or interactivity. Boring ass writing that's not evocative at all. Absolutely NO attempt to make the text usable by the DM at the table, instead just vomiting words with no thought or care to their presentation.
This is $7 at DriveThru. The preview is six pages, but you don't get to see anything of the adventure, just the preamble. As shitty a preview as one could possible provide while still providing a preview. These things just scream "Look! I paid for a pretty background text and art!" while giving you absolutely no idea how useful the actual adventure is. 

https://www.drivethrurpg.com/product/145615/U01-Dark-Days-in-Stoneholme?1892600