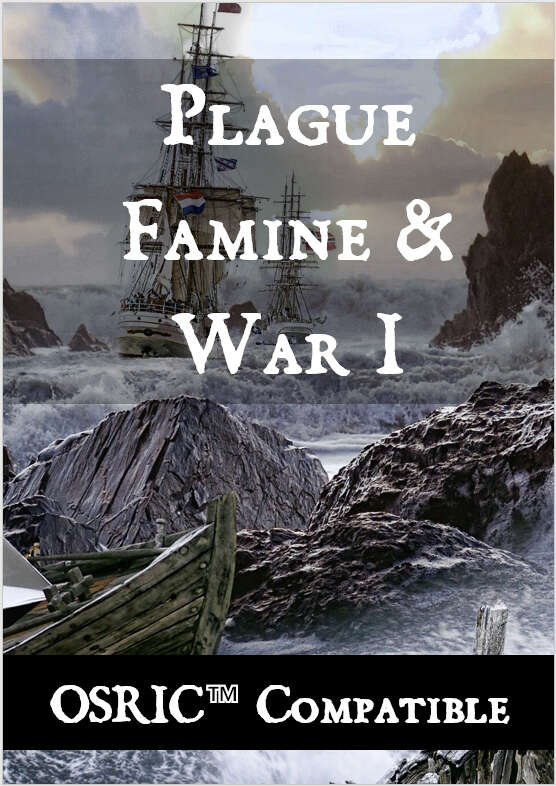 By Peter Rudin-Burgess
PPM
OSRIC
No levels given
Can the characters save teh(sp) starving city folk? Can they defeat the impending invasion?
This fourteen page adventure details six scenes in eight pages. While not exactly linear it has more in common with modern plot-based adventures than a more open older style. It's also an absolute MESS in presenting information. One of the worst.
It's listed as OSRIC … but it also makes reference to the players using their skills and players with strong social skills and using first aid skill, etc. This would lead me to believe that it's a conversion … ah, yes, I see now on DriveThru that it's available for a slew of other systems. The usual conversion issues are present: no fucking treasure means no XP and the combat, if used, tends to be forced. Neither are good in OSRIC. The OSRIC gang would probably be ok with the adventure, mechanically, since it's only mechanics are some stats for some new monsters. But there's also no level given on the cover or in the publishers blurb or anywhere in the adventure, except for it saying "this is an introductory adventure." I guess that means level one's?
This is more of an adventure outline than an adventure. The first scene and last scene are required and then the middle three depend. There are two abandoned ships in the harbour locked together and your mission is to tow one back. Thus the three additional scenes: if you board ship one, board ship two or just tow ship one back. Each of the scenes consists of MANY paragraphs, over a couple of pages, describing "first this and then this" types of things in a very abstracted way. I mean, Bloody Mage/Stink in Golanda abstracted. It's all very high level, there's a lot of it, and it's not organized very well. The delete key is a designers best friend, and removing text and highlighting other things with bullets, indents, etc would have made the different sections, and important text stand out more. I really do mean the comparison to, say, Stink in Golanda by BM … this adventure is just barely there in the most abstract way.
The first scene has the party in a hold listening to a combat above them as they come in to port on a ship. Then they get involved in a food riot and given their mission to go out to See A Ship In The Harbor and tow it back, since it contains much needed food for the city. "At some point someone accuses the party of stealing food or cutting the food line" is the extent of the food riot and food line description for the town. Like I said … REALLY high level and then it's combined with A LOT of information, most of it superfluous.
Each "scene" has an optional combat, so a kind DM can ensure that NO combat happens in the adventure. It's all "the floating could attack the parties ship" and so on. At one point there is an opportunity for the party to get in to a fight with about 400 2HD/3HD bug-monsters on one of the ships. That's something you don't see everyday. It's handled terribly, but I applaud the "We done fucked up!" opportunity. It's in the last scene, the return to port, that critical information comes to light: there are bug eggs hidden in the flour on the ship they've come to tow back. At least I think there are. The adventure says about as much "there are bug eggs in the flour; it's their plan to get them in to town that way", but that's it. Nothing more. Further, it mentions several times that the ships are tuck together but gives no mechanics or words of advice AT ALL on how to unstick the two ships, even though it's likely to be the parties first line of questioning.
And did I mention that the tug you take over has 96 slaves below deck rowing? I guess this was Zweihandler conversion? I tend toward a rather pragmatic style of D&D play, but even as a player I usually don't let slavery go unmurder-hobo'd unless the DM fiats my inability to.
I don't understand the decisions that adventure designers make. I suspect most are just overly enthusiastic about their creations. Which is great, but I wish the final products were better. It's not one of the worst I've seen … but it's a breathe away from being one of the worst.
(I should note also that I'm pretty sure this is an English as a Second language adventure. There are some misspellings and grammar issues, but while noticeable they don't make the adventure unplayable in any way. The long form text descriptions and abstracted adventure do, though.)
This is $3 at DriveThru. There is no preview. And what do we say when No Preview comes a calling?  

https://www.drivethrurpg.com/product/290406/Plague-Famine–War-1–OSRIC-Compatible?1892600