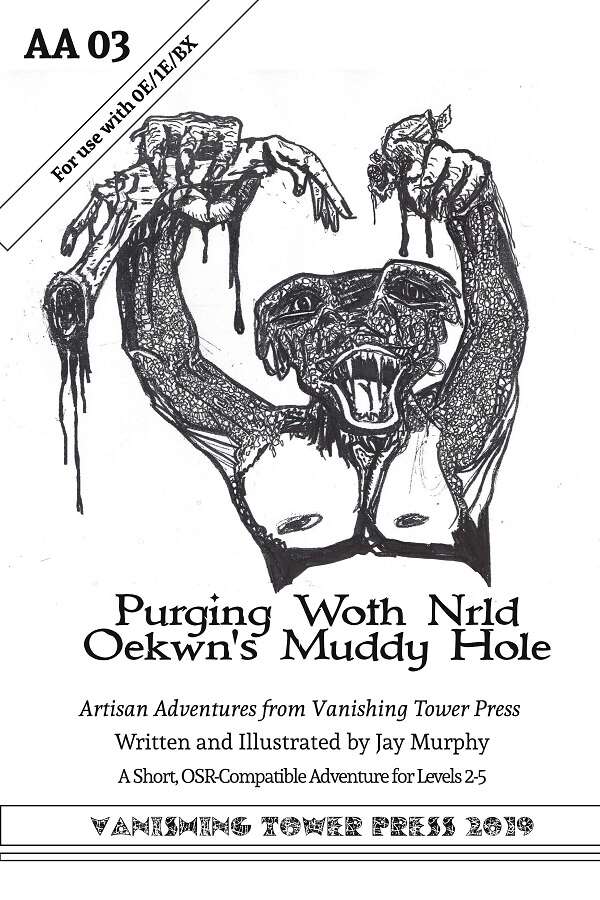 By Jay Murphy
Vanishing Tower press
1e/BX/etc
Levels 2-6(!)
A gasping faithful of the Grim Gauntlet, gripping bloodied mace in gashed hands, lies wounded in the forest. They have just crawled out from their failed mission within the "Hole". A trio of fanged-mouthed humanoids killed their party before they escaped with their life. Robid has sworn to destroy this forgotten shrine of evil. Will the PCs help?
This forty page digest adventure describes about twelve rooms in about fourteen pages. There's a small cave complex combined with a small weird temple complex … petty-god ish. Good interactivity and evocative writing combines with spotty organization.
When I first looked at this I misread it and thought it was for OSRIC. As I was looking it over I thought to myself "Jesus, the OSRIC guys heads are gonna explode"! Then I looked again and it was 1e/BX/OSR systems. Ok. We're talking a tone here closer to OD&D than 1e or generic B/X. Not really gonzo, but with a healthy, healthy non-standard monster and situation mix. "Petty God temple with Trogs" maybe describes the tone?
The tone is very OD&D: lots of new monsters and new magic items … no book items at all. The situations are weird. A sickening yellow membrane across a doorway. A harbinger in the dungeon. Dismembered corpses scattered about … with the things you need to desecrate/shut down this temple. It's weird mix of trogs and petty gods stuff … it sets a dark and ominous tone with the text. A room is barren, with the heavy smell of wet earth. Corpses ripped up, parts missing, with maggots infesting them and maggot/wing/wasp things festing on them. The smell of ammonia precedes the pink slime monsters. There are weird alters and things in the dungeon to fuck with. It's a good mix and sets the tone for "weird" without it being gonzo.
Treasure seems light for anything but level 2's … and the first monster encounter is with 11 2HD monsters in a room blocked by monsters … that's gonna be rough for level 2's. Blocking monsters can be a problem in older editions of D&D. Or, maybe, it sets a pretty strong level range if there's no way around them or clever way through them. It also does some weird things with information in place. "If Bob is with the group he'll tell the party that his buddies died in the next room …" Well, if Bob is with the party then they may have asked that before getting to this room. Having the Bob section tell us what Bob kbnows is far better than digging through the text for each room to ferret out what someone knows.
The organization of the text is … inconsistent. Some rooms do a decent job or organizing the text for the DM. Room two has two dead bodies that have attracted Muckwings (stats for muckwings) (order of battle notes) (body 1 descr)(body 2 descr.) That's a decent layout. You're likely to se ethe bodies and then the monsters when you enter, and then you'll search the bodies and the layout reflects that.
Another room, though, mentions the smell of ammonia first (good) but then monster stats. And then mentions a small hole in the floor the size of an apple. THEN it mentions the back wall being dominated by an upright stone coffin. Then it covers reaching in to the hole. Then the same paragraph covers the coffin and it opening. It's all over the place. First things first then second things second. Jumping all over the place with your room text forces a complete reading for the room … which is not good at the table during play. Other areas tell us that pink slime encroaches out in the hallway from the room. Well, fuck, that a detail that should be on the map or somehow otherwise noted prior to the room so the DM can run it correctly.
But, it's certainly original. And full of evocative writing and interesting interactive encounters. And is non-standard as all get out. If you want something a little different then I'd Regert this … but the somewhat tortured writing in places and lack of clarity in others makes it a tough recommend on the Bryce Lynch "On the Best" scale. A scale which is unfair to original works like this.
This is $4 at DriveThru. The preview is GREAT. You get some art samples (which do a good job conveying a Darkest Dungeon tone and brining the monsters to life) and you get to see about seven of the room. Note room two in particular. Can you tell me what items the bodies have and if they are pertinent to the adventure? Check out room five and see how the bolding clases with the monster bolding … and that giant hand/head alter. Pretty spiffy!

https://www.drivethrurpg.com/product/285390/AA03-Purging-Woth-Nrld-Oekwns-Muddy-Hole?affiliate_id=414579