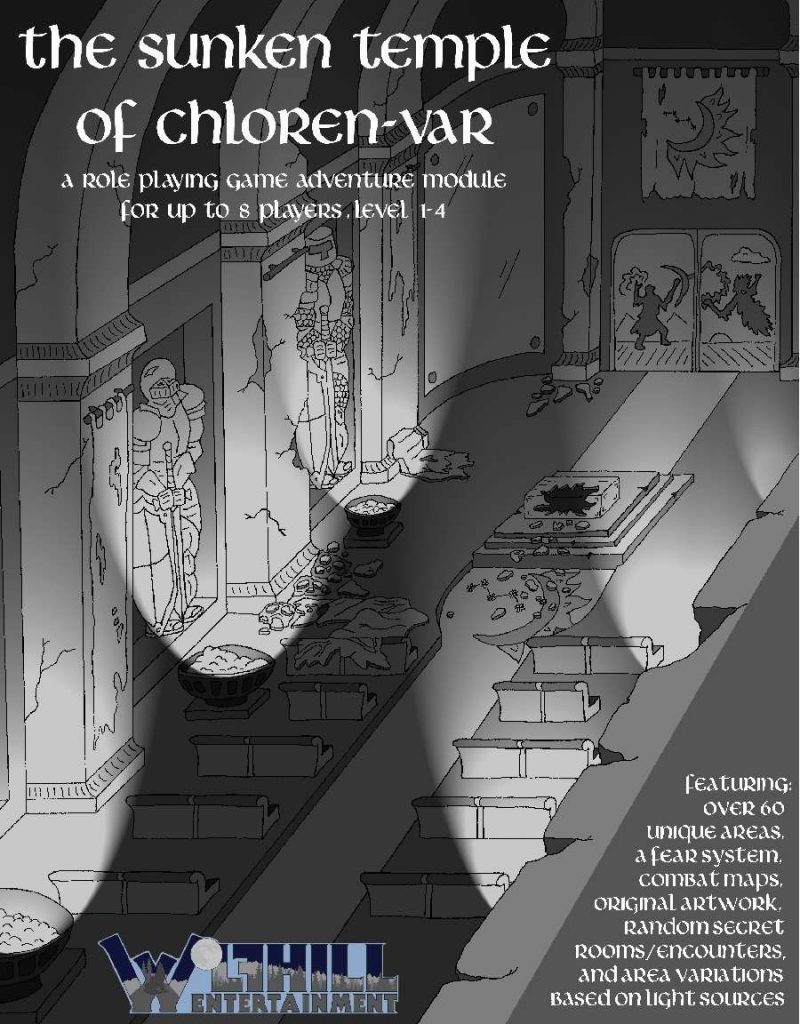 Peter Racek
Wolfhill Entertainment
OSR
Levels 1-4
Plunged deep beneath forsaken swamplands centuries ago, the Sunken Temple of Chloren-Var now waits to be rediscovered.  Untold fortune, magic, and ancient secrets await those brave enough to enter the Sunken Temple, but only if they can thwart the unrelenting evil which lurks within its dismal halls.
Uh, so, yeah, this is a thing.
This one hundred page adventure features a dungeon with about seventy rooms. MASSIVE amounts of read-aloud lead to an adventure that is nigh incomprehensible. This is then combined with a "generic" system of play, based on D&D, that seems more like a fantasy heartbreaker. Light on treasure, I'm still having a hard time figuring out what is going with it after going through it multiple times.
I don't know where to start with this. You go to an inn to find no room in it. Then someone gets killed and you get their room. In it you find a hook to the sunken temple. I guess the motivation is redeeming the dead guy by doing what he failed to do in the dungeon? 
What follows is fifty to sixty pages of read-aloud. In italics. I know I'm prone to hyperbole, but I'm not fucking around. It's about fifty or sixty pages of read-aloud. The vast VAST majority of the text in this is read-aloud. In italics. 
First the italics. It's hard to read. Italics works fine for a phrase or to call attention to one part of the text but it is TERRIBLE for long stretches of text. It's hard to read. Box it, shade it, indent it, but don't italics ong sections of text. It's a major usability issue.
Of course, then there's the length of the read-aloud proper. MOUNTAINS of it. There are page long sections of read-aloud. Every room is full of it. It's unbelievable; I don't think I've ever seen a product like this before … maybe in Sword of the Bastard Elf or Ocean of Lard? But those were Choose Your Own Adventure things … and it feels like even THEY didn't have this much. 
It's bad design 101. People don't listen to read-aloud. I'll point out again that WOTC study that found that players stop paying attention after two or three sentences of read-aloud. Clearly designers haven't gotten the message. 
I know the arguments: zero-prep. Easy to run. But man, there's far, far, easier and better ways to accomplish that. Slapping "Players React" in the middle of a p[age of read-aloud is not the way to immerse folks and have a good game. There's so much read-aloud, and it forms in to such a wall of text, that's it hard for the DM to figure out what is going on inside of this place. Further, when the read-aloud TELLS the players what they feel and think, that's bad read-aloud. There's no cohesiveness readily apparent to help the DM run this. After a few runs through the text I'm still having trouble figuring out how the place is supposed to operate.
There's bolding & indents, which shows an attempt to make things more readable. But it doesn't work well. The room headings are bolded also, so all of the bolding runs together in places giving an even more wall of text vibe. And Wall of Text is a usability issue. A major one.
The system used here is generic, and based on D&D. It feels more like the old Role Aids generic than it does the Eldritch Enterprises generic. I can't figure out why the choice was made. You didn't want to include the Labyrinth Lord license? Deeper in to this, there are new systems for fear, lighting (to the extent that its DM advice includes discouraging light spells and the party bringing in torches and oil. Uh … No.) new systems for locks and searching. There's more than little fantasy heartbreaker going on.
And it's random, in places, for the sake of being random. Where are the secret rooms? Roll for it! What are some key plot elements? Roll for it! Why is this? It would have been much simpler to just write a standard adventure, I don't see this sort of randomness complementing the adventure at all. It's similar, I guess, to the random elements to Ravenloft. 
This is a curiosity only, to see how far read-aloud can be pushed in an adventure. It's got very low interactivity, with the party fighting skeletons and couple of puzzles. Treasure is very light for a Gold=XP system, as core OSR is. Let's hope future offerings are better,
This is $6 at Drivethru. The preview is sixteen pages. In spite of this, you're going to get no sample rooms, so it's a failure. Scrolling to the end, you do get to see the (VERY long) intro, and all of the read aloud, which IS an excellent indicator of the sorts of room formatting you're going to get. Look on my Read Aloud ye mighty and despair!

https://www.drivethrurpg.com/product/271274/The-Sunken-Temple-of-ChlorenVar?1892600