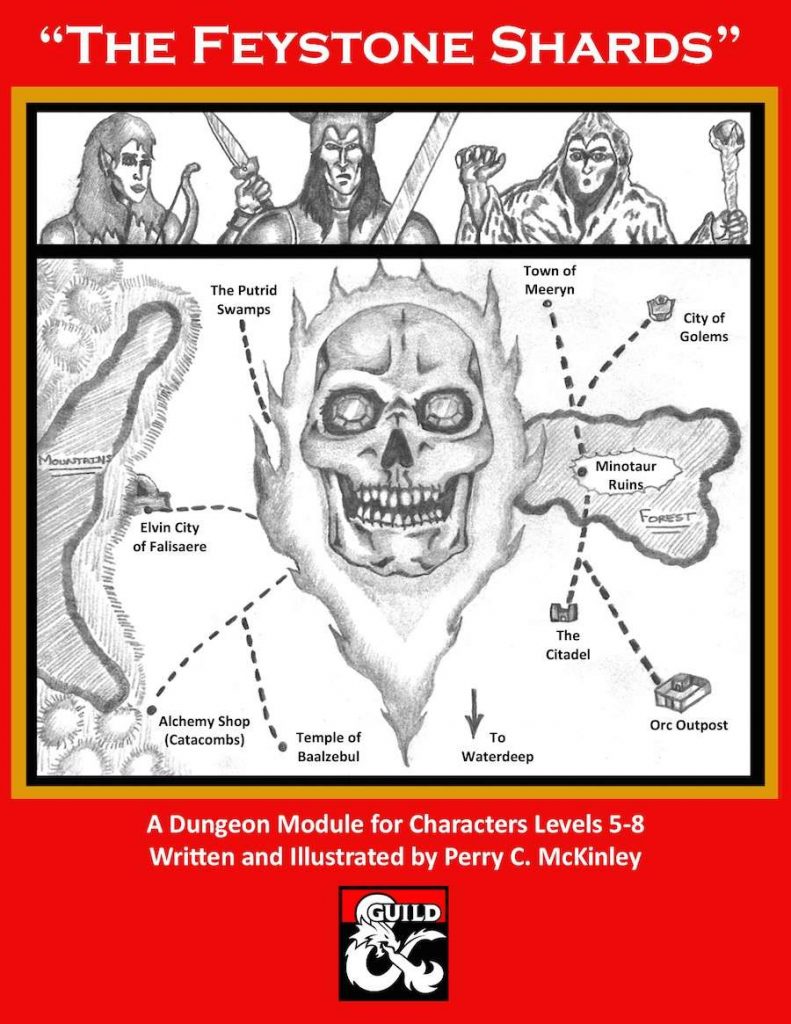 By Perry McKinley
DMSGuild
5e
Levels 5-8
The Heroes are tasked to find five fragments of a shattered Orb, once worshipped by a faction of Elves. The search will take the party to a haunted Citadel, as they seek the scattered remnants of the Feystone. From a city of Stone Golems, to an alchemist's underground lair – the players will face obstacles and enemies that will challenge their very resolve. The Heroes will need to discover the secrets of the bauble's fey magic, finding the lost Elvin city where the Orb was once worshipped as a God. Join in the hunt for the Feystone Shards, and see if your characters are ready to transcend common Heroes…and become Legends.
This forty page adventure details about twenty regional locations, some of which expanded, in the parties hunt to find the five shards of an ancient artifact. (Yawn.) It's a mess of an adventure, with no summaries, few DM aids, long read-aloud, confused DM text, abundant italics … and combat as interactivity.
Here's your adventure highlight: "In one hand the bony fingers clutch a piece of parchment." Most of the read-aloud is much more forced in its allusions. That's not even proper read-aloud block, it exists as a stand-alone sentence.
"An elf faction" … and a cult, two famous and tired abstractions. A shattered artifact to be put back together, another great unused adventure idea. The text adds backstory but it does so with writing that abstracts the concepts. Rather than a backstory that comes alive and adds depth it abstracts. It's an elf faction, which is how I might refer to it in an academic paper written three hundred years later. (Well, assuming I'm a human and not an elf.) The challenge in writing is to add the specificity that will fire a DM's imagination and let them run with the encounter concept without vomiting up an abundance of words that makes the makes the adventure less easy to use. And the allowed number is generally quite small. Good organization can increase that number, but it's a non-trivial endeavor. The way NOT to do it is have you read-aloud say things like "Hezra tells the party that …" Third-person is no way to build a bridge.
The opening read-aloud is in third-person and is a column long. Other read-aloud spans paragraphs. Long sections of the text are in italics. Italics is hard to read. Players stop listening to read-aloud after a couple of sentences. What we have here is someone emulating other styles they've seen, not knowing that the other styles were terrible. It does try to highlight certain portions of the text to draw attention to it. That's great. But it's not enough.
(As an aside, the quest-giver offers you 500gp each for each shard of artifact. I'd go hire a village of around 500 people, for 1gp each, and collect 499gp*500 villagers in reward. But, I'm now a nice guy on the weekends so I won't say that.)
One of the core issues with the adventure is the lack of context and summaries for the various areas. What we have is about twenty locations and about two sentences of that column-long read-aloud … with very little other context of summaries of what's going on in the various encounter locations. You go in each blind, trying to figure out, with your players, what the fuck is going on. That works in something like G1, but not when the text expands out the way it does here. Without the context and summaries you're blind as to whats going on and going to have a hell of time running the thing. This is one of the main issues that torpedoes this product. I mean, the rest of its mistakes are bad and would have kept me from giving this a good score, but the context/summaries issues just lowers from a middling value, like so many other adventure, to some place near the bottom of the barrell.
It has all of the usual issues with a plot adventure. The quest giver is actually evil. (Wow! What a surprise!) and captured minions reveal nothing … otherwise you might find out the quest giver is evil. Of course, nothing much is done with the quest giver being evil, so, you know, no big loss there. Most of these things have some big reveal in the last room where the party is "betrayed" by "a friend" that everyone saw coming a mile down the road. This doesn't even do that, never really mentioning it again.
There are many mistakes right out of basic editing "There appears to be little here" or "it appears to be two eagles facing each other." Weasel words.
Endless shitty rooms with nothing going on. Interactivity that is little more than combat. Pre-defined places on the map where the read-aloud says you have to camp and have a random encounter. One room has a dragon. In the middle of the text describing the treasure it also has a sentence describing the dragons reactions to the party. Seriously? Because that makes sense? Because if I'm the DM looking for how a monster reacts to the party then I should naturally assume its in the middle of the text describing the loot?
Look, I know all this shit are vanity projects. I know designers are people and they are excited to share. But Jesus H Fucking CHrist hire a fucking editor for your vanity project. And pay good money for a good editor. I know, it sounds weird. I want you to pay A LOT for a GOOD editor. I want you to agonize over every word. And then I want you to sell it as Pay What You Want. But in the end you can take some pride that you have made something available to folks that is really good. No designers are making any money off this shit (which is true enough) , so instead frame the issue of publishing a different way. Instead of trying to make money with people paying you why not instead take the position that YOU are going to pay money to put something great out for people to use?
This is Pay What You Want at DMSGuild with a suggested price of $4. The preview is seven pages. Page one has the third-person column read-aloud and a bit blog of italics … along with some examples of highlighting. Go ahead and read that column of text … it's the only context inthe entire adventure of where to go and what to do. The preview is good, the entire thing, in that it shows you what sort of text to expect from the adventure … all seven pages.