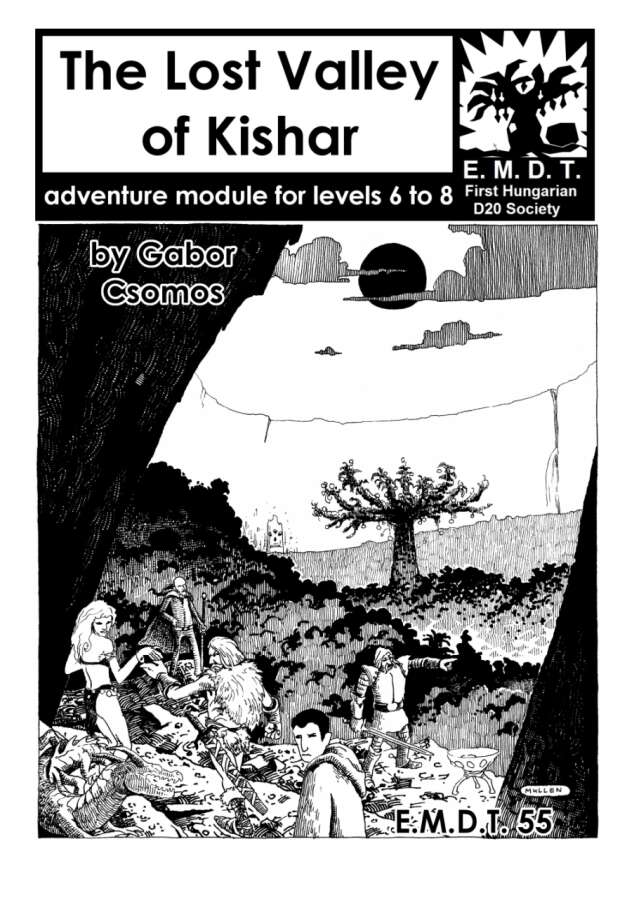 By Gabor Csomos
First Hungarian D20 Society
OSRIC
Levels 6-8
Somewhere, only a few days' travel from a busy trade route, there lies a valley surrounded by untamed wilderness. It is surrounded by cliffs forming the shape a ring, unnaturally steep and tall, as if they had been wrought by human hand. No one remembers who had originally erected the ruins standing within the valley, and who had nurtured the wondrous tree which had once drawn pilgrims from distant lands. Kishar's priestesses have been long forgotten – but the tree's blessed radiance persists. As if under an odd compulsion, all manner of beasts have been drawn to the valley, and in time, there emerged others. Those who came from far beyond human imagination, and were already here before the first priestesses…
This 36 page adventure details a lost valley with about 28 locations laid out in about 22 pages or so. Each of the major points is a little situation to overcome or exploit, with most having a relationship to one or two others. It tries to organize well, considering it's single column, but some disjointed text causes an occasional forced error, ala older Judges Guild.
Ok, big crater, 8 miles in diameter. Covered in jungle. You've got tarzan in there with his winged apes, a tribe of people friendly to him, a tribe of hostile goat people, tombs of ancient heroes, a hag kidnapper, a crashed spaceship being exploited by said hag, a "dead" lich, a neutralish-ish death knight-ish guy, the tree of life, underground tunnels, rivers, Skull Tower, a rampaging monster ala tarrasque, and two T-rexes guarding an entry cave to get in. Oh, and some flying monsters hanging around the edge of the crater to make like rough on folk getting in/out. That's a fuck ton going on.
Each is presented in maybe a quarter to a third of a page. A brief description of what's going on, how they react, what they want, and so on. Just enough to layout the basics of the group with the rest left up to the DM to react to when the party starts to screw around with things/people. It's a good way to do things in a big sandbox-y like environment. And, like I said, each site generally has some sort of connection to two or three others, getting the party moving around the valley and encountering other groups.
Our wanderers, inside and out, add to the fun. Outside the valley we get a kind of tension building exercise, finding relics of past depredations. Inside the valley are things to attract the party and get them interested in the encounter, sights and sounds of creatures about.
I need to be a tad delicate with my next criticism, but I'm not going to, instead leaving that to every reader to NOT misinterpret. This is both clearly not a English-As-A-First-Language product AND perfectly good english. Ninety-five percent of the text would be indistinguishable from an English-native text. I admire our non-English friends and their ability to produce works in English better than most English-native works. Further, I love seeing non-North American/British works. I love the different take on things. But … in this case, that extra 5% is a little jarring. It's not unbearable and not incomprehensible, but it does cause some non-trivial efforts to understand. It's more 'unusual phrasing' than it is "wrong.'
In this case, though, the unusual/strained phrasing helps fight against the chosen format. We've got a one-column text, which is itself a little straining, and then on top of that a kind of terse description of the area, maybe with a paragraph break or two. As the rooms get to be more complex, and the text grows, that strained phrasing, in places, make the grokking more difficult then I would be comfortable with. I might liken it to an older Judges Guild product, like Dark Tower. You have to fight the text a little to get the big picture of whats going on and that makes immediate understanding suffer. But, in both cases, the content is worth it.
There's also a misplaced detail or two. I thinking of some tracks that show up in various places, mentioned in the valley introduction and haphazardly referenced in the later text. There's also a "valley overview" description included in encounter 5 "Vantage Point", which doesn't make sense to me why that isn't possible from other locations around the rim. It's these little notes and, almost, asides, in which could be moved around or organized a little better.
Still, it's a pretty good lost valley adventure. Lots going on. The setups are understandable, easy for the DM to grok. They interact with each other. It's got a lot of tough shit running around to overcome. (And may be a little light on the treasure for a 1E game …) It's also taken the single-column format about as far as it can go. I don't think you could make some of the encounters any longer and preserve usability.
This is $6 at DriveThru. The preview is ten pages. The last page shows one of the valley encounters. If you take that, as well as maybe "the ring of rocks" section at the end of preview page eight, then you'll get an idea of the writing style. I don't think it can be taken any further.

https://www.drivethrurpg.com/product/282762/The-Lost-Valley-of-Kishar?1892600