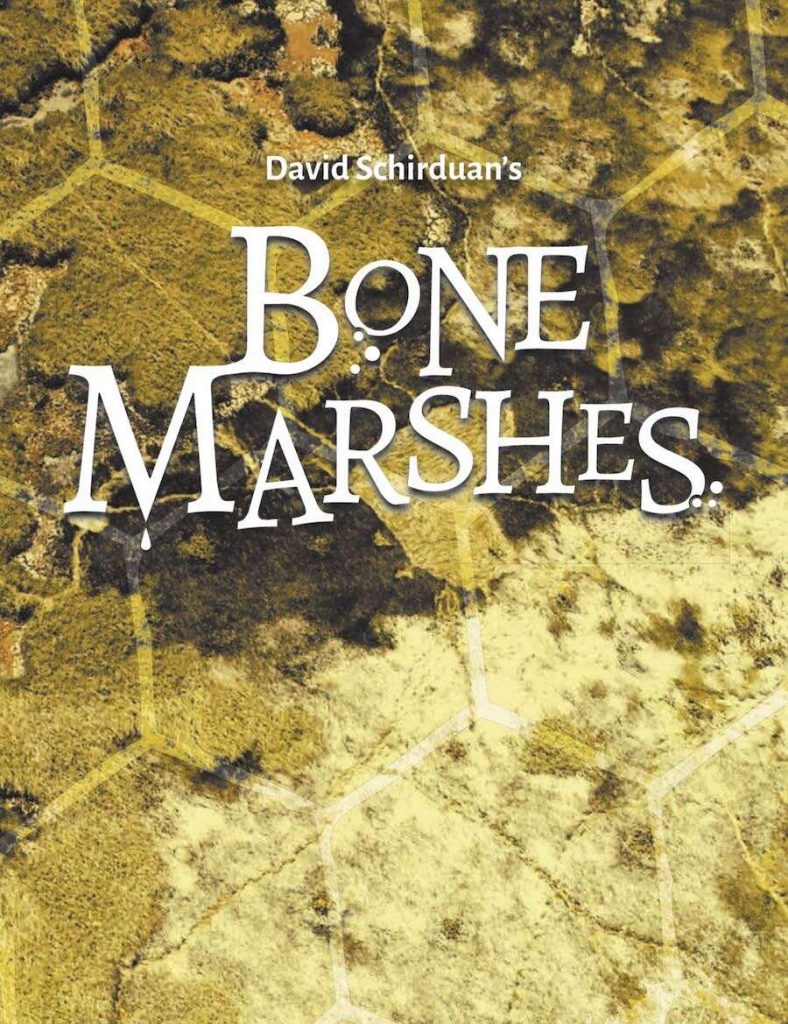 By David Schriduan
Technical Grimoire Games
Knave
We need your help! The marshes are burning, and we don't know why!
This 48 page hexcrawl has 25 hexes. [Hex size defined as "four hours to cross] It falls in to the "Real deal" category of adventures. Not mini-dungeon, but fully formed with lots going on. It makes some non-intuitive choices but it's easy enough to use once you've got the hang of it. Chok full of adventure.
You find some magic flyers saying the swamps are on fire and some mage needs help. The mage has a mission for you: charting a path through the swamp for her supply caravan to reach her base. After that she another mission, and then another. These come with handy dandy tracking sheets and notes on modifications on how to turn each in to one-shot. The above references two themes: an impishness and a nod to usability.
There's a tone present which isn't gonzo and isn't deadly serious 1e AD&D and isn't humor. It's a slightly bizarre character thing, drifting toward ren-faire but never actually getting close. There's some tech present in the swamp, at the heart of mystery in fact, but its not a gonzo adventure. It's more subtle. There's no real humor, but there are non-serious moments. These are almost entirely in the form of the NPC's. They are not humorous, but they do have strong character. A guy who like to see things burn. Sages who like their comfort. And the primary quest-giver, a mage with a lot of money, not much sense, a childlike wonder, and who is looking to make a name for herself. Further in the swamp are memgomanicial bandit kings and some swamp-creatures with a trial separation going on. They don't go over the top, or least not enough to make the adventure a farce. They do provide strong elements to hang your DM hat on and provide engaging play for the party. Which is what it's about.
There's also an emphasis on usability. I noted the handouts for the three missions, which double as a kind of note-pad, etc for the party. The character sheets also have some nods to usability for a "you got mud on you" mechanic. The hexes are noted in a format to help aid the DM, as is some underground/flooded tunnel notes. The descriptions make good use of bolding and summaries, whitespace, bullets, and terse evocative setting descriptions. It's clear that usability was a major design consideration, and it pays off.
There's a lot to do and interact with in the swamp. Fighting, fire fighting, NPC's to talk to do, schemes to plot, places to explore and so on. It's a small hex crawl done right. There's some over-arching goals for the party and a canvas full of things waiting to happen for the adventure to develop as the party tries to achieve their goals. It's a great example of both plot and sandbox mixing in the correct proportions to achieve some directed purpose without dictating which way things should go.
And it's not without its flaws. For all its attempts at usability a few fall short.
The adventure makes an effort at cross-references, they appear in more than a few places. It also doesn't always use time when it should. There are five gizmos scattered about the swamp that play a major part in the adventure … but there's no unified place where they are all mentioned. Other elements, mentioned in passing as goals or so on, also do not get a cross-reference. Where was that swamp-throne again?
The swamp map is a little non-intuitive as well, at first glance. The hexes are numbered A through R. Then the hex descriptions start. It took me more than a few minutes to recognize that the hexes were keyed by the encounter name. "Archies Camp" is hex A. "Queens House" is hex Q, and so on. I get it, once I figured it out, but I'm still not sure it makes the layout/design more intuitive. It also moves from one area to the next a little more fluidly then is helpful. In particular the indoor and underground sections for the main encounter areas end up being less intuitive then they could be if done in a more traditional format.It's not BAD, exactly, but it does require more work than usual to figure out how things relate to each other.
Finally, there's the fire aspect. This is the pretext for the entire adventure: the swamp is on fire and the mage wants to put it out. Mechanically, this is covered. There are rules for fire fighting, damage and the like. Easy to find, laid out, and understandable. Then there are tactical level fire issues: many random encounters and a few fixed ones have fire elements to them. Hexes tell yo uwhat they look like before and fires in them. But it feels like there's a gap when it comes to, oh, let's call is Strategic fire management. Let's start with something very basic: where are the fires? Having spent a couple of hours with this adventure I can only tell you one hex. If you levitate up, or fly, or somehow get high up and look out … where are the fires? Where is the smoke coming from? There's not help in this area. [Further, in retrospect, I don't think fires exist, except in isolated circumstances and that one hex. I think they mostly come up through play and random encounters. The feeling of "smoke and small fires everywhere" doesn't really come through for me. This may be a play thing though.]
But, these are minor nits and generally easily addressed. Monsters are freaky and get good descriptions. Hex/item descriptions are evocative and terse and the text easy to scan. It's just how it all fits together that could be better. Still, easily one of the best. A "real" adventure, and there's not many of those out there,
This is $10 at DriveThru, and worth it. The preview is fifteen pages. You get to see a DM overview of one of the "plot quests", laid out nicely. You also get some bestiary pages, showing off their descriptions and freakiness. Preview page 10 and onward shows you sample hex encounter descriptions, with wanderers and the main layout/descriptions for hexes. It's a good preview. 

https://www.drivethrurpg.com/product/275159/Bone-Marshes?1892600