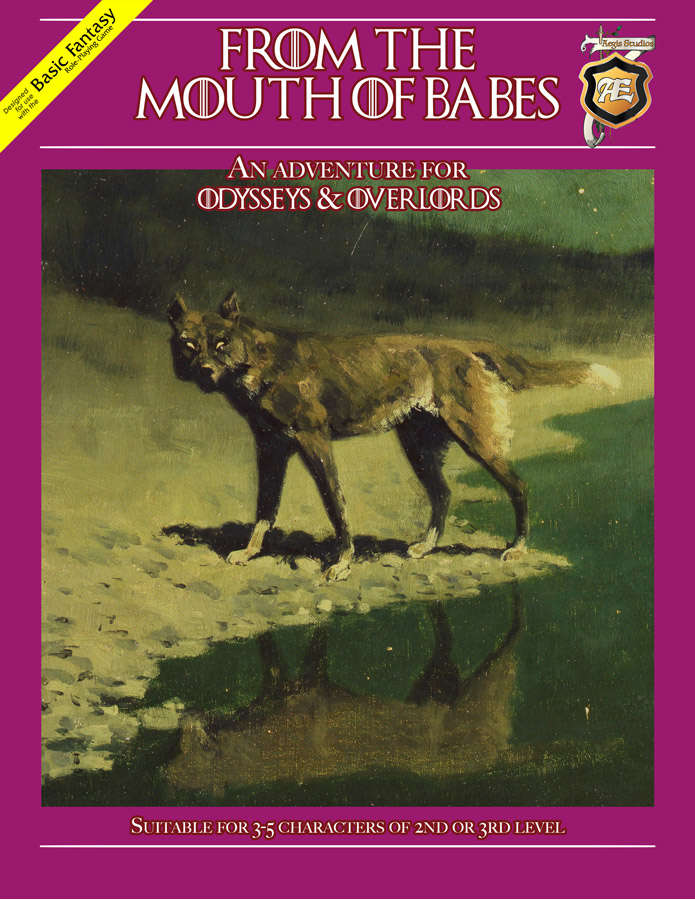 By Ken Carcas
Aegis Studios
B/X
Level 2-3
A dirty pair of hungry goblin children wander upon the party on the wilderness side of The Untamed Gauntlet. Through difficult communication, the party manages to find out that something bad happened to their clan. The children, still unaware of the villainous nature of man to goblin, attempt to convince their newfound 'friends' to come and help. Leading the party back to the lair, they are eventually confronted with the fact that the clans own hunting wolves are responsible for the clan's demise. To make matters worse, it appears the crazed nature of the wolves, due to the arcane effects of the poison has transformed the once ordinary wolves into poison wielding beasts in their own right. Will the party overcome these freaks of nature and their poison attacks, and what will become of the goblin children themselves?
Nothing to see here, move along.
This sixteen page adventure features a five room linear dungeon. With encounters spanning a page or more, the backstory and irrelevant detail is strong with this one.
The exploration of Aegis Studios carpet-bombing of content continues, and probably will as long as different designers keep producing content for it. I think this is designer number six under the Aegis banner? Aegis certainly came on strong with O&O content.
The hook encounter is a page long. It involves two goblin children coming out of the forest, hungry, asking the party for help. This should have been the first warning … a full page for this is long, with separate read-alouds for day and night. To its credit it does present a second hook, for when the party kills the kids; a diseased wolf shows up and you can track it back to the same caves.
Otherwise …
To find the goblin cave you need to make a wisdom check. If you fail you can try again next hour. Each hour you get a +1 bonus. There are no wanderers, so it's just pointless dice rolling.
The encounters are between a column and a page and half long. Two giants rats? That's a column of text. Three goblins, that's a page and half because of all the backstory they could relate to you. An empty room is a quarter page. Two wolves is a page long. This is all textbook padding through history and other detail that's irrelevant to the game at hand. "The remaining goblins from Area 2 have recently killed a couple of giant rats that ventured into their lair obviously looking for an easy meal. The goblins managed to kill both but only managed to drag one back to Area 2 before the Venom Wolves from below ventured up to see what the noise was all about. It is unknown why they chose to leave the remaining dead giant rat where it was and not claim it as a meal." In the end I sigh, roll my eyes, and thank Vecna I never have to try to run this at the table. There's just way too much shit for each room to be able to scan it and run it easily. Padding, filler, poorly organized … it's words for the sake of words. I wonder if Travis pays per word?
The female goblins are listed with HD:1-1. They have 14HP, 12HP, and 8HP. Is this on a d20? Maybe it's just me, but something seems off to me …
This is $2 at DriveThru, where Featured Reviewer Megan R. gives it five stars. A quick check of her last sixty reviews shows one three star review (for a Delta Green DM screen) a couple of four stars and mostly five star reviews. This is the world we live in.
Anyway, the preview is four pages. The last page shows the Wisdom Check for the cave, the first room, and the start of the (1.5 page) second room. Room one is a good example of what to expect, only much much much more so, in terms of padding.

https://www.drivethrurpg.com/product/275682/From-the-Mouth-of-Babes?1892600