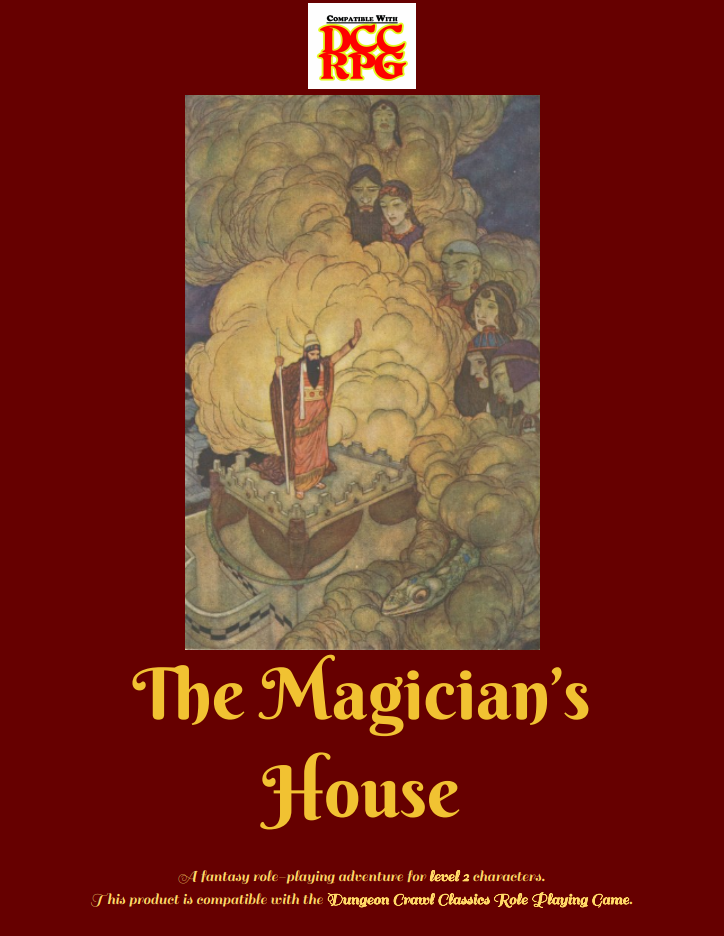 By Ray Weidner
Self Published
DCC
Levels 1-3
The city of Blackrock is in peril! An army of shrieking demons marches inexorably closer, less than a week away from putting its people to the knife. The Duke puts out a call: brave and resourceful heroes are needed to recover the sacred words that will unleash the power of the Sealing Stone. Words that have passed beyond the world – and so these adventurers must pass beyond the world, into…The Magician's House!

This 132 page adventure uses about seventy pages to describe a 25-ish "room" wizards house. There is little of the heightened reality that most DCC adventures have, making this a pretty straight forward conversion to your favorite gaming system. There is a depth to many of the rooms that makes them seem more like mini-vignettes or set-pieces, without even really overreaching in to being jaded or expectating Yet Another Set Piece. Lots of minor polishing issues plague the adventure but it never really falls in to any major traps. I think it's a delightful little romp through a gentleman magicians home.

What Ray has created here is a point crawl wizards house, thanks the extra-dimensional flavour afforded by being a wizard. You're searching for either the wizard or some magic words, giving you drive to explore. The extra-dimensional aspects are leveraged in more than just "the dungeon layout is weird." Mirrors transport you to mirror world. Or you can go to Faerie. Or the moon. Speaking of faerie and mirrors, you might recognize some Norvel/Strange references. In fact, the baddies here are fey right out of that book, with the adventure leaning to that sort of fey.

The wizard in question is Mordank the Irregular. Tales are told of his feats … like when he saved the town from poisoned grain by summoning a huge army of rats to eat the grain. And who then died in the streets and stank forever. Mordank is my kind of wizard, both in holistic thinking and in being a weirdo.

There's absolutely a Wizard House vibe this. There are some ruined houses in town with no real walls or doors. Except for one, which is the wizards doors. The backside looks like a normal door. That's wizard shit. Weirdo servants? Wizard shit. Keeping fey captive? Wizards shit. Weird stuff to fuck with? Wizard shit. Mirrors you can walk through? Wizard shit. Thing place feels like a wizards house.

It helps that you can talk to just about anything. Slime creatures on the moon? They are actually guests of the wizard, nice people, and happy to talk if you don't try to gak them at first sight. The servants? They talk … and try to get you to go back to the visitors lounge. The guards? Same thing. But their captain also needs some sneaky types to help him get back at the servants … The fey king, and other fey? Sure, the kings hobbies are Games and Hating Mordank. There's a great deal of interactivity. If I had a complaint in this area it might be that it could use a little more challenge. There's that Ed Greenwood thing where you just walk around looking at weird shit. And in LOTFP fucking with anything is usually a bad idea. In a Gold=XP game the allure is usually loot, motivating you to fuck with stuff. In a one-shot (which is what this is oriented toward. More on that later.) or a story game then you motivation to fuck with shit has to be in service of the story. I'm not sure that comes through as well as it could. In some places it seems more like Greenwood interactivity. Not an obstacle, but an experience, and you can be left with the "just dont touch anything" mindset.

In THIS adventure the pregens provide some motivation in that area. They all have objectives ad "side quests" from their backstory. Discover the source of the wizards power and report back. Get cash. Spread the faith. Find a book in the library about a certain thing. Things to get you moving around the map, if this were a hexcrawl, beyond the simple main quest.

A high page count with low room count usually means word bloat. While this isn't a masterpiece of editing, it doesn't really have the problems associated with word bloat. Each room is contained on two or three pages. You get a little mini-map, an initial impression, and then a separate header and paragraph, etc, for each interesting thing in the First Impression description … or a feature inside of another feature, for example. This is then followed by an explicit stat block, a section on treasure, and then a note on exits. Whitespace and section headings a bullets are generous. Taken together this explains how the depth of the rooms are handled and how it gets past the word bloat issue. Ray thought about the issue and found a solution.

Well … most of a solution. At two pages per room I am ON. BOARD. with this format. Facing pages, open behind the screen, the entire room available at a glance with whitespace, headings, bullets providing me help to find things. At three I suddenly need to page flip. A third page containing just the stats and/or treasure/exits could be ok. A third page referenced during exceptions, like a fight breaking out or leaving the room. Then a page flip seems ok. But a third page, or more, to look up simple room stuff? At that point I begin to drag out my Everything is a Guideline mantra, and Too Much Devotion to a Things is Bad mantra. Messing with the margins, the whitespace, the font size, rethinking Major Headings vs Minor Headings, all all in game as things that could be sacrificed, temporarily at a minimum, on the altar of "all the main shit on two pages."

That might be my major complaint and I think falls in to the realm of Polishing. In that same realm are a large number of other issues. Some more work on mirror world to handle the transition rooms better, those being necessarily more complex. A major NPC, the wizards drinking buddy, is lacking almost any detail at all. Like, what he knows about the house, the situation, etc. Some of the words from the First Impression features do not appear as section headings. Looking Glass in the impressions with Mirrors as a heading for more information. That's a crude example, but gets the point across. Other places need someone to point out some flaws in the writing. A little model of the solar system is in one room. A party member can shrink and fly toward the planets … at 20' per round. They are unrecoverable at 100'. I don't really get this. The solar system toy, the shrinking, the distances, they don't make sens to me together.

But, these are polish issues. There's some very find magic rings with non-standard effects. A gem you can swallow (Hey hey hey! Dungeon of the Bear!) and great rumors. The wizard is built up exactly the way you'd want one to be … powerful and little bizarre without going full out gonzo or silly. The Gentlemen Fey thing goin on is just icing.

Good adventure. Lots of room for polishing. As a one-shot it supports the DM with pre-gens with motivations to help drive action beyond the main plot. I can handle something that needs more polishing; The Best doesn't necessarily mean Perfect. This is a great first effort.

This is $6 at DriveThru. The preview is 21 pages! You get to see several of the complete rooms, in their two to three page layout glory.
EDIT: I review above is the one I originally wrote. Ray had asked for feedback so I sent him the review and, between writing it Saturday and publishing it Wednesday, he released a second edition. It helps mitigate the gaps around the drinking buddy knowing the house, clarifies the solar system toy, and, notably, messed around with the layout of each room to try and get it to two facing pages OR move the reference material to end to get the core room on to the two facing pages. Now, if everyone else in the world listened to me this much then my entitlement issues would be resolved, although in the wrong manner.

https://www.drivethrurpg.com/product/274519/The-Magicians-House-DCC-edition?1892600