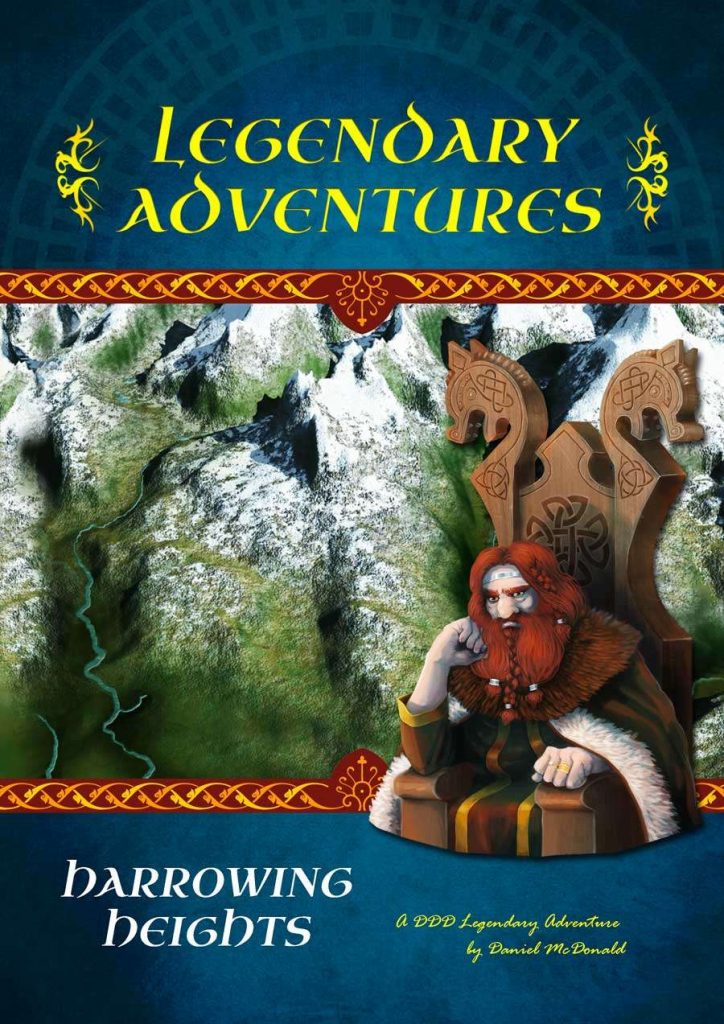 Daniel McDonald, Sam McDonald, Pete Pinner
DeepDark Designs
5e
Levels 1-3
A level 1-5 adventure module for 3-5 players and a game master that pitches the PCs against kobolds and drakes, with strong nordic-themes and a focus on overland travel.

More crap. I thought this one would be different. Five reviews. All five stars. A closer look reveals that all of the reviews are long and sing the praises of the product, list cons, and still give it five stars. Treachery?

It would match the other puffery. You're partaking on a Grand Journey! Best of all the adventure is lovingly illustrated with art and cartography! No, that's not best of all. This is 114 pages. Five or so scenes and a couple of overland journeys. How does it accomplish this? By perhaps the worst cases of hand holding I've ever seen.

NOTHING in this thing is simple. If you simply cut out all of the regional and cultural information (the vikings tolerate all religions and treat everyone as equals. Oh, my, that's unusual. Never saw that coming. So, it's a bunch of humans that wear furs and act just like every other D&D culture?) then you'd still be left with about fifty pages and about five scenes and a couple of overland journeys.

Hand holding. Conversational text. There's SO fucking much of it. SO much that I can barely make heads or tails of the actual encounters. "The kobolds occupy the spaces indicated on the map, split their numbers however you like." On and on and on it goes. The fucking thing can't take a sentence to say something, it has to take a fucking paragraph.

At one point the jarl is presented as an NPC with a section on how to roleplay him. He's a concerned father … so we need an extra couple of sentences to tell us what that heading means. He's authoritarian, not draconian. So we need another two or three sentences to tell us what that means. It's fucking stupid to the extreme how much this thing drags on.

Oh No, jalrs daughter hasn't arrived! Go look at the ambush scene and fight some kobolds. Go back to town and talk to the Jarl. Wilderness journey to druid who knows where the kobold live. Kobolds destroyed a bridge, so talk to a nearby cartoony eccentric wizard. Talk/kill kobolds at their giant village and talk/kill the old lady behind it all.

You get to prove your worthiness to the druid before he helps you. Isn't that original? Proving your worthiness. I mean, every shitty adventure on the face of the earth does this, so why not this one also?

The read-aloud is long, of course it is, and it tells you how you feel, because of course it does. "There's a sinking feeling in your gut …"

If you kill the jarls guards at the viking settlement then you are recognized as brave and loyal men and not charged. Wereguild? No.

You see, the designer has a plot he wants to force down your fucking throat. Getting arrested isn't in that plot so it doesn't happen. Capture a kobold? Guess what, he doesn't know where his lair is … because that would eliminate a couple of scenes to the adventure and we just can't have that happening can we? And the viking theming is just pasted on in the loosest way possible, so no cultural stuff included. Just get on the railroad, do what your told while playing with your phones, and wait until four hours have passed so you can go home.

Unless you're the DM. In which case you get to wade through all of this shitty shitty text. It fucking holds your hand in the text in every way imaginable, using the loosest of all conversational styles, but then says things like "there's a 5% chance he possess a magic item." or Suggestion- Put some debris on the map as difficult terrain to represent the looted wagon contents. Fucking really? Seriously? You can't even set the fucking scene or rewards up for us? You can give us multiple sentences of backstory and explanation justifying everything that happens in every part of this adventure, but not that? You know, of course, that the backstory is fucking useless and just gets in the way of the details that we need to run the adventure? That the loose conversational style is a disaster at the table, while you're looking at the book trying to run the adventure?

"An Incentive. Depending on their motivations and personality traits, the PCs might already be moved by Dalla's plight. Either way, Orm is prepared to offer them a tremendous reward for going above and beyond the call of duty."

There is absolutely no understanding displayed AT ALL about what an adventure is or is meant to do or how it should. Or maybe there is and they just selected to do the opposite at every possible decision point.

Bad Adventure Design. Bad Adventure Formatting. Full of puffery. In retrospect, I should have known from the 5-star reviews. Why do people put up with this shit? Are there no standards at all left? "I tried" is worth five stars? I guess this is what people want. Paying $10 for a PDF that has almost no adventure in it and is padded out? I want to think that people just don't know what good design is. That the consumer doesn't so, so they put up with this garbage. That the designers don't know and thus keeping churning out this same stuff over and over again.

This garbage is $10.50 at DriveThru.  The preview is eight pages and shows you nothing of the actual adventure, just the background garbage.
https://www.drivethrurpg.com/product/210760/Legendary-Adventures–Harrowing-Heights?1892600