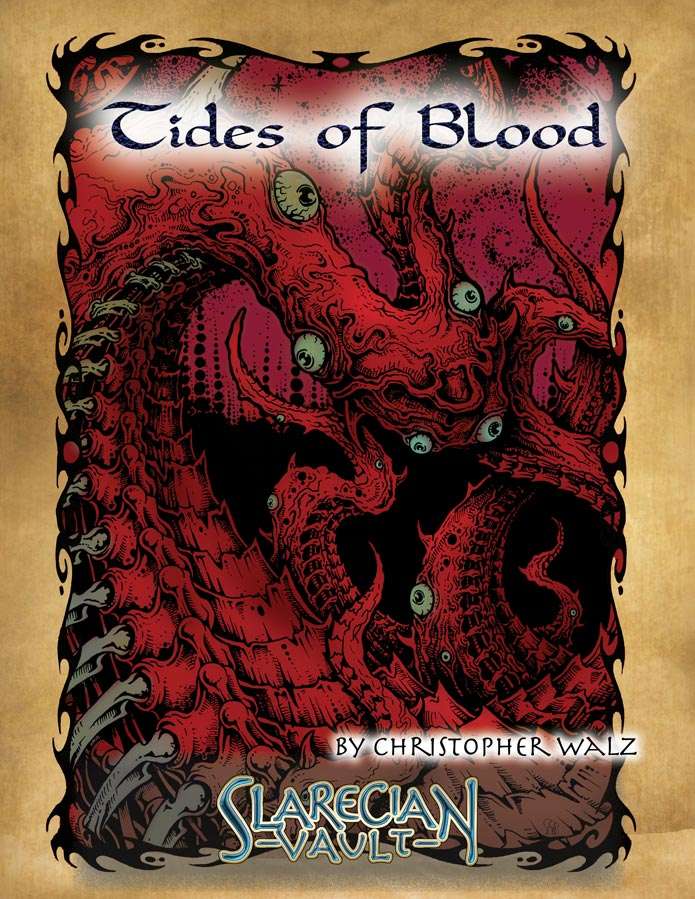 Christopher Walz
Self-published
5e
Level 6
Menthias Dolgutha, a Coreanic priest in Mithril, has received a vision of the Silver Bastion, a fortress used by the knightly Order of Silver during the Divine War, rising from the Blood Sea. Searching Mithril's libraries, the priest discovered the fortress was built before the titan Kadum was defeated and imprisoned at the depths of the sea. The Silver Bastion was overrun with titanspawn as the last remaining knights stayed behind, allowing others to retreat to the mainland. Menthias believes a Coreanic relic, the Brightshield, may still be hidden in the once-lost castle. Will your heroes be able to brave the dangers of the Blood Sea and contend with the Heartseekers of Kadum to wrest control over the powerful relic?

First, some secret shame. I have a Patreon! It's got free adventures, commentary on adventure design, and random musings about RPG's, etc. And, it does help me buy adventures to review. It's at https://www.patreon.com/join/tenfootpole?
This 37 page adventure details a small over-ocean voyage and a ten room fortress. It's nothing more than garbage combats. Encounter after encounter. Room after room. "Combat!" "Roll for init!" "They attack!" Oh, and the baddies? A cult. Wow. Really. A cult. How original. I wonder how long that took to come up with?

My plan was to check out some NON-Dmsguild content. To see who out there was raging against the dying of the light and jousting against the windmills of corporate licensing agreements. Don't get off the boat man, don't get off the boat …

This hunk of junk claims to have content supporting all three pillars of D&D play: social, exploration, and combat. I have no fucking idea what Social and Exploration mean in 5e circles these days, but if one were to take this adventure as canonical, not much. There's not exploration to speak of, unless "I go in to the next room" means exploration. The social seems limited to … the quest giver? Some generic sailors on a ship you take? It's all combat. Your quest-giver is interrupted by combat. "There's bloodtained on the docks!" yeller a commoner. Uh huh. Blood tainted. Because people talk like that. Feels more like a"throw a combat in early" garbage advice being followed.

You sail to an island to follow up on the "a cleric hired us" hook. The DM rolls weather occasionally. "Players can think weather is boring, liven it up" says the adventure. Yes, that's because simulationist shit is boring. I got four hours this week in between 60 hours of assistant crack-whore trainee work and you'r chukcing "light rain" at me, and taking up a significant page count doing so? Or, maybe, the forced combats twice a day. Once each twelve hours you have an encounter/are attacked on the seas. Joy. That seems like fun. Then you get to the island and have more "fun" fighting room after room of creatures/cultists.

This sort of stuff is soooooooo boring. Combat is boring. Tactics combat is boring. Yes, I know some people like this shit. 40k is thing. Descent & Gloomhaven is a thing (I'm playing Gloomhaven in … 90 minutes from now. Dr. Nick the DOOMSTALKER. And yes, I just spoiled the game.Mayor McDickCheese, aka Nico Crystalhead the Spellweaver was just the first to retire]

Spot distances on the boat are short. Like 30-60 feet. Wasn't it like 320 yards in 1e/0e? That's because there is no more Combat as War, it's all Combat as Sport. God forbid you do anything but use your Encounter powers and roll to hit. Everything on earth sneaks on board your ship as a wandering encounter. You gotta make DC20 insight checks to figure out the evil cleric is evil. Solid silver doors are given no value and not one word about looting them. The adventure is rife with the words "at your discretion you can …" Yeah, no shit. Roleplaying advice for NPC's is long and boring, with bonds and ideas and flaws straight out of the book, still generic and boring.

The monsters are all Blood Sea Mutant Killer Whale and Heaker Cultists of titspan Krathas and shit like that. Look at that fucking intro text, that's supposed to get you excited about the adventure. My eyes are rolling so much I can barely read it.

The entire adventure is nothing but aggressively generic and focused on combat. In an attempt to be non-generic it focuses on "bloodspaned mutants" and other language that is just a different dimension of generic. There's no details to bring anything to life. There's nothing visceral. Specificity is avoided. It's all just generic heroic language.

Next time I'll try harder to find something not in DMSGuild.

This is $4 at DriveThru. The preview is six pages long. The last two pages are not TOO far off from showing you what you get in the bulk of the adventure locations.
https://www.drivethrurpg.com/product/262487/Tides-of-Blood?1892600