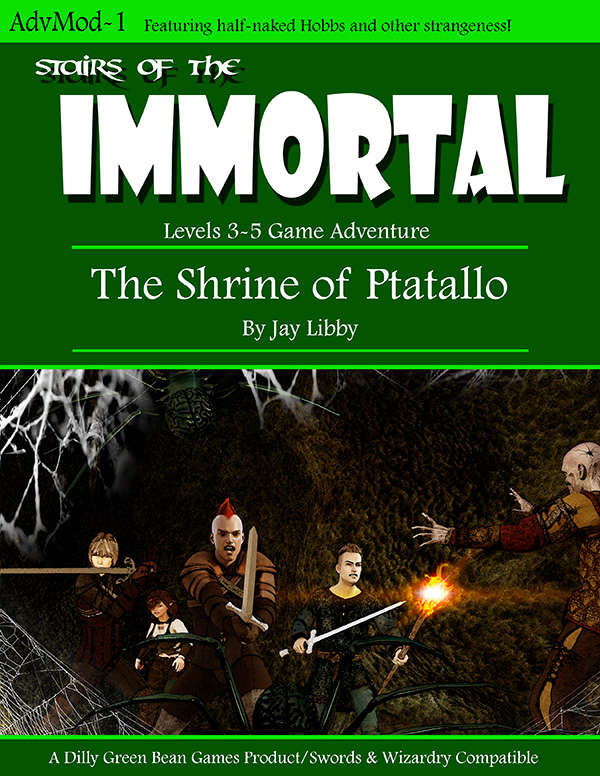 By Jay Libby
Dilly Green Brean Games
Swords & Wizardry
Levels 3-5
Half naked Hobbs, a mystic wizard and a shrine long since abandoned call players in the first Stairs of the Immortal: Swords & Wizardry adventure module The Shrine of Ptatallo!

This 23 page adventure is a linear mess in free verse form. I don't even know what to call this style anymore. This is just a garbage linear "modern" adventure with the stats converted to S&W.

Look man, I know I can be a caricature of myself at times. Yeah, I have these things I like to say about criticizing the work not the author, giving feedback, writing a review so you can find it useful even if you don't share my tastes, and then I show my ass by doing Reviews As Performance Art. But jesus H fucking christ man, it FEELS like adventure design is going backwards. My first exposure to the incomprehensible were the Willett/Bloodymage adventures, and it seems like the number of trusly shit-tastic things is getting more and more prevalent.

I went through this spate, in the early days, of reviewing a pile of things that were CLEARLY money grab conversions. Slap a different game system on the cover and maybe half-ass a couple of stats and release it for thirteen different game systems. Mechanic confusion abounded, idiosyncratic parts of games were ignored (xp=gp, for example) and so on. I developed a strong hatred for the people involved in the money grabs. Sometimes you can see this spill over when I spit out the word "conversion" like it were venom. Perhaps unjustly at times.

Willett and Alfonso were different. Alfonso hadn't played D&D in like twenty years and was just publishing to get titles under his name so a big publishing house would pick up his novels. Like the money-grabbers, his motives were less love of the game and more something else. Willett seemed like he NEEDED money, but seemed to have a love of the game that he just could not express and get down on paper in a logical way. I have a lot of sympathy for those folks. Getting a vision out of your head and down on paper in a way that makes it easy for someone else to pick up and run with is not a trivial task. And yet thousands of people manage to do it. Emulating, mostly, they get it out and down in a format that looks like it could work. And then there's things like this adventure.

There's this trend lately to publish an almost stream of consciousness adventure. An almost novelization. And I don't mean fiction and I don't mean the Paizo over-wordy bullshit. Imagine there were no maps and you were telling a story to a friend over a beer and you kept saying "and then we …" and "then I … " and so on. Rapid fire. No pauses. Almost stream of consciousness but without as much randomness.

This seems to be format that people use when writing adventures. This is now the (fourth?) adventure in about a month or so that I've seen use it. I just don't fucking get it. It's completely confusing. You have to dig through paragraph after paragraph of data to get ahold of whats going on. The section breaks are few and far between. "The room to the right contains" and "the room to the left contains …" are the extent of the keying. Oh, wait, no, there's also "the tunnel leads to another room that has a …" sort of thing. What kind of fucking thing is this? It's like you just described a dungeon, room after room, in one big long section. There are paragraph breaks, but no section breaks to speak of. Some paragraph breaks are new rooms, Some are different things in the same room. How the fuck is this usable in any way? I don't get where this is coming from but it needs to fucking stop. It's bad enough that this adventure is completely linear, but this format, on top of it, does nothing but make my life harder at the table. How the fuck are you supposed to use this?

And the adventure is only about six actual pages long, everything else filler, fluff, and monster stats. How about some cash so you can level? Of course not.

Look, you gotta meet me halfway here. I'm happy to review new people. It's hard as fuck to get any publicity in the DriveThru marketplace. But you need to do a little research and figure out for yourself a modicum of adventure design.

I present to you my new ratings scale, which I promise to promptly forget about as soon as I close my browser:

Not An Adventure
Stream of Consciousness Adventure
Emulating an Adventure format without knowing how it works
I know what I'm doing
I know what I'm doing and life has not crushed my soul
This is $2.50 at DriveThru. There is no preview.
https://www.drivethrurpg.com/product/271573/SW-Shrine-of-Ptatallo?1892600