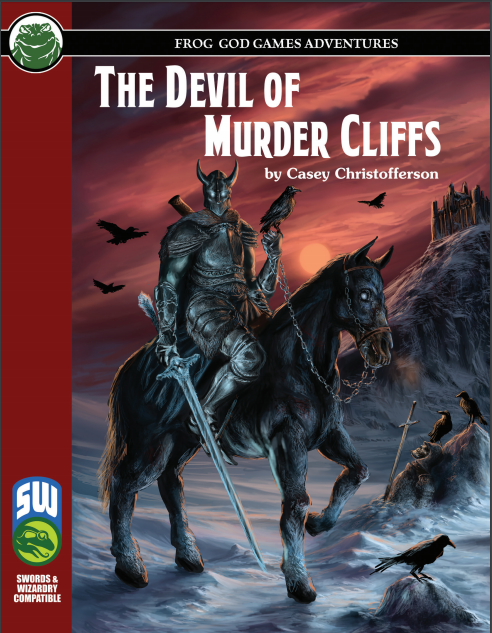 By Casey Christofferson
Frog God Games
S&W
Levels 3-5
In the pale light of the witching hour when the moon shows off its twin horns,
Tis said that a devil rises from the deep with a murderous taste for the soul.
You will know ere he stalks for the crows love to talk
About how they have picked clean your bones.


Let's see what the Frogs are up to these days!
This 39 page adventure details a small regional with a bandit camp, some gnolls, an inn, a druid, and some loggers. There's a meta-plot thing going on where the inn, bandits, and a ghost have some stuff going on. It feels more like the outline of an adventure, with a lot of generic detail added to it. The emphasis on act 1 & 3 is too short, I think.

Part 1: You arrive at the inn. It's about a page long and then the inn is described, room by room, up until about page 20. The inn room description is 9 pages long with the "mission introduction" contained on a 10th page. You get your mission: defeat the bandits &| druid. Part 2: the wilderness including the bandit camp, gnoll camps, druid, evil mountain altar, logging camps, etc. 6 pages, 8 with the wanderers. Part 3: After defeating the bandits/druid you come back for a feast. Then all hell breaks loose. 1 page.

This feels more like the outline of an adventure. Imagine I wrote a page of plot. Then I write the outline of some locations to go visit. Then I expanded those locations with a bunch of generic detail, over several pages. That's what this feels like.

The introduction/hook is a couple of paragraphs about four bandits (1hd) attacking the inn, a lady inside yelling at the party to kill them, and then her asking the party to kill the bandits and their ally, the druid. It's almost a throw-away. I guess it's meant to be expanded by all of the context provided in the NPC backgrounds and situation overview that appear before this. It feels like a cumbersome way to handle things. Yes, all of the NPC's in the inn kind of make sense, but the way the "plot" is condensed in to just a couple of paragraphs seems awkward. I think maybe it could have used a little less of NPC description up front and maybe a little more in the "welcome to the inn!" sections.

Likewise, the wilderness sections are weird. A wandering monster table followed by some wilderness locales. There's a couple of gnoll lairs that expliplify this. Just six or so cave rooms, with some generic descriptions and generic gnolls. Leaders, wives, bodyguards, young … it could be the B2 cave. It feels flat, and somehow could be replaced with "gnoll lair with 6 rooms, 12 gnolls, a chief, 2 wives, 8 young, and 2 bodyguards. 300gp" It feels weird. There's a lot of text but it doesn't really DO anything.

Party 3 kind of exemplifies this. It's about a page and deals with consequences. A dinner party, maybe escaped prisoners if the party captured any and then a hunt for them in the inn, and a ghost possessing people to cause trouble, and maybe an attack by gnolls and bandits on the inn, all at the same time. First: AWESOME! I fucking love chaos in an adventure, especially at the end. A billion things going on at once! Delicious!

But, more to my point, it' feels weird. It's almost like THIS is the actual adventure and everything else just led up to it. But it's covered on one page. Suddenly, the EXTENSIVE room by room inn description makes sense. If the party is doing a hide & seek with the escape prisoners then you need a full map and room description. It's still weird though … the extraneous detail of the inn. And, yes, the designer is right, the party is likely to explore and get in to trouble in part one, so a map kind of makes sense then also. But nine pages worth?

It's all a kind of super-weird choice. There's this evil mountain alter that has a magic item that will be pretty hard/impossible to recover, given the permutations and lack of hints. But then it once again becomes a focus in the end of party 3, when a ghost can possess someone there. Except they can do it in part one also.

There is something to this adventure, but the emphasis and the way ideas are presented is out of whack with the clarity. Specificity is missing, and instead we get this kind of outline format that's then expanded upon with genericism. And then it's WAY long while the more interesting sections are very short.

And then the treasure is quite light for S&W. The gnolls have 400gp. The bandits little more. What/how the bandit officers patrol is buried in the description of the officers tent instead of the camp overview. Information is misplaced and wrongly emphasized all over the place.

Again, the concepts are not bad, but it's quite cumbersome. Well, the inn people are baddies who betray you, which triggers lifelong D&D trauma of always sleeping together in inns and never eating or drinking their food and never making friends/allies anywhere. The DM's party in murder hobo survival is an important tale to tell.

This is $10 at DriveThru. There's no preview. Sup with that froggies? How about letting us see what we're buying ahead of time when you charge us $10?
https://www.drivethrurpg.com/product/270859/The-Devil-of-Murder-Cliffs-Swords-and-Wizardry?1892600