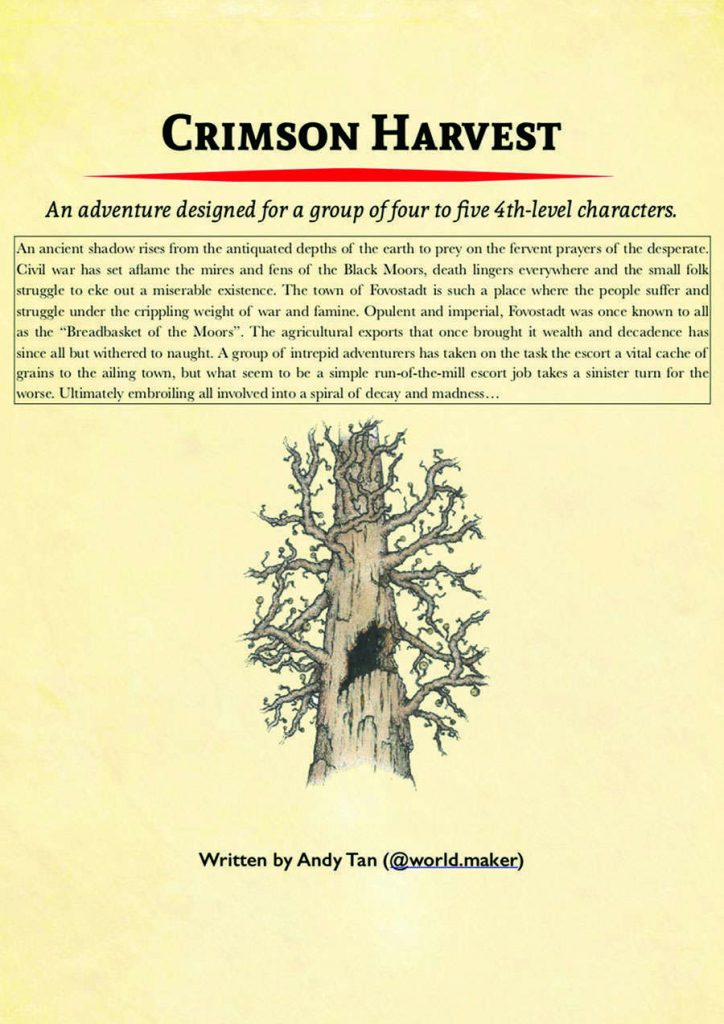 By Andy Tam
Self Published
5e
Level 4

… The agricultural exports that once brought it wealth and decadence has since all but withered to naught. A group of intrepid adventurers has taken on the task the escort a vital cache of grains to the ailing town, but what seem to be a simple run-of-the-mill escort job takes a sinister turn for the worse. Ultimately embroiling all involved into a spiral of decay and madness…

This 58 page adventure features a cult in a village and about sixty locations in the manor home/dungeon.There are hints of an adventure in this, but it's written like a linear plot based thing rather than a normal adventure. The benefit of the doubt would seem to indicate a lack of understanding of how to design a non-linear adventure.

Digging around on DMGuild, I was struck that everything there is either A) not an adventure, B) Some AL nonsense, C) Connected to the latest book. I went out of my way to find something relatively independent and came to this. The baddie here is a Warlock, in service to her patron. Nice! Reminds me of the days when druids were baddies. There's also a civil war going on, with the village in question being majorly impacted. Muddy fields, bodies face down in the dirt, spilled blood, starving and desperate people … that's pretty cool. I mean, it's just gonna be used as a throwaway once this adventure is over, but what if it weren't? Nice campaign regional.

This thing also tries. It's got an encounter on the way to the village with an old woman trader doing some profiteering, a source of information, who also steals from the party at night. And it tries to add atmosphere, mostly by having a section at the start called "Atmosphere" with some bullet point ideas. And the entire concept of a village, starving during a civil war making civil hands unclean, desperate people, bodies down in the mud, a good ol' hanging tree ala Witcher 3 (who also tried and failed at wartime) … ah, warms my DM heart. As does a certain brevity in combat encounters; only a few sentences each, on average!

Oh, and then there's this bit right up near the top of the adventure, one of the few few words …

"Crimson Harvest is a dark fantasy story presented in the form of a Dungeons & Dragons adventure …"

Ok, no, it's not as bad as those words would imply. But, man, seeing that can cause your heart to shudder.

The hook has the baddies luring the party to town. Lure adventure suck. They are right up there with Challenge/Test adventures. Then the guy who hires you will commit suicide rather than be captured, if you attack him. This is not going well. Really? He kills himself? He's bought in that deep? And still passes for normal, enough to put one over on the party? Just let the fucking party capture him, who cares? Besides, the hooks are all lame anyway. Hired or assigned a mission or Yet Another Missing Loved One. My next PC is going to home from an extended close-knit family of about 600 relatives, just to mock all these lame ass Loved One hooks.

The read aloud is extensive. Extensive read-aloud should never be included. Can I say that categorically? Are there exceptions? I don't know. But it's close enough to the truth to say it categorically. Plus, it waxes poetic and flowery and presumes to tell you your character's actions and feelings. Find some vials? The read aloud tells you open them and sniff. Uh huh.

And that atmosphere that I mentioned had bullets? It's mostly generalized and abstracted, giving you little concrete or inspiring to work with.

But that's all minor nits compared to the major failures, on two key points. First, it fails utterly in some pretty basic design issues. Like it wants to split the party. This is a fucking disaster for DM's, because it ALWAYS leaves a group of your players bored and disengaged. The only way this works is if have the ability to regroup almost immediately, and that don't happen here. It also REALLY hates maps. Which is to say it loves them too much, in the wrong way. Clearly someone put some effort in to making battlemaps for everything, nice and colorful and detailed. But the main DM map is a zoomed out version, hard to read. And basic information like "how many villagers attack the party in the tavern?" are left unanswered because the information is not in the text OR on the map, as the adventure indicates it should be. So you can't run it, by design, unless you use the battle maps which tell you the enemy count and location … and then the information isn't on the maps? And, if it IS there, and I missed it, then it's not clear enough. There's this weird abstraction of detail, like in a tower with a boy. There's no map, I think, but the locations are numbered like there is one. But they are weird, like #1 is painting and #2 are the aforementioned glass vials and #3 is a chest, like there's a map somewhere of a big room with numbers on it. Feel free to stretch your legs and try new things in design, but you should also make sure they work.

The second major issues is the entire adventure. Or, rather, how it designed. It's clear that the designer is going for a kind of open ended sort of thing, something akin to a sandbox/independent location that the party find themselves in. But I don't think they know how to do it.

There's a strong bend to the writing that is linear and plot based. This then this and then this … not quite that but about as close and you can without having scenes. The militia, as cult members, are stationed outside the manor home to keep the party out. There's a strong element of capturing the party or directing them to certain hidden entrances. If this adventure is The Wicker Man then everyone in the village is right on the edge of clubbing the party over the head. It doesn't come off as much as a village with a problem but rather a kind of armed camp ready to assault the party, turning the adventure in to a hack fest almost immediately. The maps have a strong linear dungeon bend to them rather than presenting the place as a "normal" manor house. Look, I hate simulationist stuff as much as I hate linear stuff, but this is clearly close to the plot side of the spectrum, too much for its own good.

Getting out of the 5e echo chamber and seeing examples of good adventures would go a long way to helping the designers next effort. Pruning back the prescriptive writing elements and either returning to traditional map/key or putting more work in to the color battle maps actually helping the DM.

This is $3 at DMsguild. There's no preview. Andy, go create a preview that shows a few encounters so people know what they are buying!