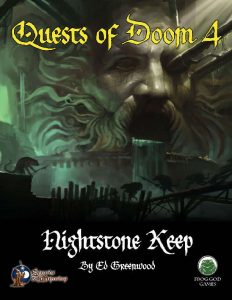 By Ed Greenwood
Frog God Games
S&W
Levels 4-6
The characters will be able to explore the ruins of the keep, which have become a plant colony, and attempt to wrest a powerful treasure from the clutches of the araunglyd, a gigantic sentient fungus. The araunglyd will attempt to thwart the players at every turn, using its drone-like minions to harass and hinder them as they go.
This 23 page mess describes a keep with … 10 rooms? It is ABSOLUTELY a fucking mess. I think it might be another Aliens-type adventure, like Arachnophobia by Usherwood. Take Greenwoods expansive writing and combine it with Frogs utter incompetence when it comes to editing and you've got a very special product indeed. This thing is like it's been through 6 passes of a translator, one of which was old english. There's a fungus monster in the keep … and he's got some minions? That's about as much as I can dig up.
I don't know who's to blame. I suspect Greenwood for his writing style and no one at Frog pushing back … and then also an "editor' … who I suspect didn't read it at all. That's the only excuse I can think of. I remind you that the Frogs put out an adventure with the wrong cover .. an no one ever seemingly caught it. It's cra.
It's got be be pretty fucking egregious for me to say something, and I'm saying something. "… connecting to underground areas in the Mainmain Cellarcellar beneath." That's not an infamous Bryce typo. That's a$8 adventure with an editor attached. That's not the only example. This shit happens all over the place. The Speartongue monster has "Hit Dice: 32" Not, that's not a hit point mistake, as in it has 32 HP. It bears no relation to reality. Someone just put in 32.
The fun starts almost immediately. As you approach there are two birds atop the keep that attack you. This is a four paragraph encounter, for some fucking reason. It starts with this little gem "A mated pair of carrion graw nesting atop the keep see any characters approaching. The graw can't immediately be seen from below, as they lie on its roof with wings spread and heads down, peering out through the gaps where merlons have fallen away. The graws will swoop to attack as soon as any character moves into the open.A mated pair of carrion graw (giant predatory birds) nesting atop the keep see any character character him" That last sentence looks like notes or something, that was expanded in to the text, maybe, that appears before it? It just ends, with the "him", without punctuation. And the fucking adventure does this all over the place!
And the format Oh boy. It's not room/key. There's just a big bold heading, like "Throne Room" … and then four or five paragraphs of text explaining what is going on. Or "Main Cellar" or something like that … with seven paragraphs of text. From that you have to read it all and figure out what is going on. It's fucking nuts. It's not even wall of text, its something else. I have no fucking idea what to call it. No one spent ANY time trying to massage this thing in to something useful. It's like you tries to have James Joyce write the pre-flight checklist for an airliner … sure, it's kind of neat in a weird way, but its utterly useless for the purpose of which its intended.
This adventure, for 4th-6h level characters in a game where gold=xp, has 25sp and 148gp of treasure, as well as a Gem of Vitality … which heals you for 1d4hp every round and can bring the dead back to life. It has no downsides/curses, etc.
This is $8 at DriveThru. The preview is four pages and only shows you one page of text … the one with the start of the bird encounter on it. https://www.drivethrurpg.com/product/232207/Quests-of-Doom-4-Nightstone-Keep-Swords-and-Wizardry?affiliate_id=1892600