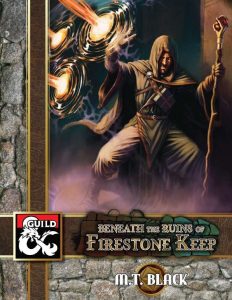 By M. T. Black, GM Lent, Dave Zajac
Self Published
5e
Levels 1-3
Lord Blackmoor's son has been kidnapped, and is being held in the crypts beneath an ancient fortress. Can our heroes rescue the boy before he is sacrificed in a diabolical ceremony?
This twenty six page adventure has a twenty five room dungeon crawl. Long read-aloud, lots of explaining and justifications for things pad out what would be normal crawl.
There are four chapters here, where chapter one is "hook, two is "wilderness journey" (IE: two linear encounters"), three is the dungeon and four is the NPC betrayal. As soon as I read the hook I knew the lords sister was the baddy and, sure enough, she turns out to tbe the baddy. Shoulda just killed her to start with.
Anway, Lord Who Cares'
Son has been kidnapped and he wants the party to go get him. He knows the kobolds did it and that they lair in a ruin nearby. In my opinion, he's getting what he deserves for not slaughtering the kobolds earlier, but whatever. He loves his son so much that he can't be bothered to send his six guards with the party. "They can't be spared." Uh huh. It's this kind of shit that breaks the suspension of disbelief. "Sure, whatever, I guess we have to if we want to play D&D tonight." Just give the due no guards, or let the party have them if they are smart enough to ask, or something else. Why fuck around with saying no? I'll tell you why, because the designer said so, that's why!
A pit trap takes two paragraphs to describe. Remember pit traps? They used to be drawn on the map as an X with no text in the adventure? Not anymore. Some rooms take over a page to describe. Read-aloud overstays its welcome … while simultaneously saying nothing. "There are two doors, one open and one shut." I FRIGGING HATE THE SIBBY!!
One of the chief sins herein is engaging in explaining and justifying. "He was a necromancer, which accounts for the high amount of necrotic energy in the crypts." That's FUCKING irrelevant It doesn't matter if it has no impact on the adventure. What's the explanation for? WHO'S the explanation for? It has no impact on play. The adventure engages in this activity over and over again, justifying shit, noting trivia. Make a DC15 Religion check to know the frescos re related to Bane, god of War … which is nothing but trivia. At one point there's read-aloud that says something like "as if it were clawing its way out of a nightmare." No. Just No. Failed Novelist Syndrome. Or how about conditional descriptions? IF the party triggers the tripwire THEN the kobolds will … Again, no, No, NO! This sort of phrasing drives me insane. It's nothing but padding.
The map is ok. It's a bit larger DYson map than usual, and has some loops and passages running under others. It's not an ANTI_exploration map and is good enough for the tactics and mystery needed for a dungeoncrawl map. The magic items are generally boring, with the exception of an item or two, like a faulty mirror of scrying and a magic glaive that gives you advantage on intimidates and has a nice glowing jewel and makes cool sounds when wielded. IE: its a magic item and not just a mechanical bonus.
This is $3 at DriveThru.https://www.drivethrurpg.com/product/205741/Beneath-the-Ruins-of-Firestone-Keep–Adventure?affiliate_id=1892600