8, 8, I forget what is for
Last week Malrex and Prince posted teasers of the next adventure they are working on.
Here
and
here
.
Everything about it has me salivating with anticipation, but...
O...M...G...
that cover
!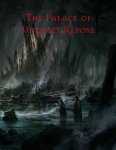 I want my players to adventure
there
!
EDIT: Why? It's not the creepy figures in the foreground...it's that half-collapsed/half-flooded church in the background and the caverous corridors leading away into the depths. That's what evokes the spirit of exploration to me.
Last edited: