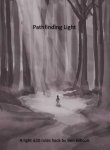 I'm in the midst of writing and playtesting my OSR hack of Pathfinder/3.5. It evolved from a combination of having a bunch of dyed-in-the-wool 3.P players who don't enjoy change along with introducing hundreds of new players over time. As much as the 3.P game has accumulated tons of cruft I genuinely do enjoy the d20 core rules and unified mechanic, it's both easy to teach and easy to run. If any of you are familiar with my One-Session Kits you'll know I have a standard printout single page of basic rules that I hand out to newbies or people unfamiliar with the system. It's been a huge success, and immediately grasping the basics has let me expand into the crunch very easily as we play: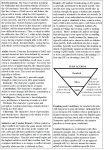 All of this coincided with reading more other rulesets and experiencing more types of games. I was a player in a very successful West Marches campaign, amazingly successful with seven DMs and a hundred players. Despite all the fun and success, though, the West Marches kept running into the limitations of its chosen system, 5E. The OSR-adjacent assumptions of the WM hexcrawl mesh poorly with the giant puffy HP bags of heroism that are baseline 5th Edition PCs. I proposed to the lead DM that he should look into E6, the old D&D 3.X ruleset that capped character levels at level 6. He couldn't really change rules mid-game (again, this is a hundred people) but he's going to be using E8 for his next WM. He also strongly considered 5 Torches Deep, the OSRish hack of 5E that encourages simplicity, but in the end he just found it too big, the rulebook is a meaty chunk for a rule mod, it's hard to get players to read that much closely. I've done my own E6 or E8 Pathfinder games, it's fun, but players really do feel annoyed to hit the ceiling there.
Enter Pathfinding Light. Pared down to the bone, it plays extremely old-school. Rather than muck around with the huge 3.P class list I cut everything down to the basic NPC classes, which correspond pretty well to the OD&D core:
-Warrior (Fighting Mans)
-Expert (Skill Monkey thiefish)
-Adept (Magic-Users with Cure Spells)
-Aristocrat (Jack-of-all-trades)
-Commoner (Sucky scrubs)
I've also taken feats down to those most commonly used, races are the basic Elf/Dwarf/Human/Halfling, and magic item shops are
gone
. Coupled with gold=XP, playing the hack gives me the feeling I like and my playtesters have enjoyed it a lot. I already was running 3.P more old school than most, eschewing grids in many cases, making morale rolls for monsters, throwing out CR as a concept, with PFL it's been a breeze to run.
This isn't me advertising, though, this is me working out the project for the system book, which is ambitious as hell. I'm trying to make these goals:
-
Twenty pages A5
(I want this to be reasonable to ask players/GMs to read).
-Contains all the rules needed to play the game.
-Readable both from cover-to-back and as a reference.
-Hyperlinked (in the PDF) to the d20SRD for rule references and more options as needed.
-A one-page dungeon that is (A) fun and (B) a good intro to the system. Figuring out this is going to be its own challenge for information density, mapping, presentation, and of course dungeon design.