So ... slow work day? Every day?
Gilded Dream of the Incandescent Queen is by H.D.A aka TerribleSorcery for levels 4-6 using Basic/Expert systems.
So first off....look at that cover!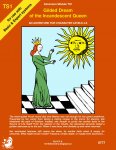 That cover is awesome!! The blurb is enticing and sparks interest.
I'm not really a expert reviewer or anything, but I jotted down some notes into Pro's and Suggestions. Here's my thoughts.
Pro's
I liked the adventure hooks—"all the lead in the kingdom is being stolen". "Dragons made of rain clouds". These are pretty interesting and grab a player's interest. The number of different hooks and suggestions for different ways to get to the palace is wonderful.
The wandering encounters are all doing something. I like the random acts that each could be doing. I think I would of preferred it in a table, but that's a nitpick.
Color spray from the marble courtesans as loot...That's awesome!
Loved the random items in Room #3—I think I would of preferred to have them in a random table as PCs search the room.
The inset maps and maps are great, but hard to read with no graph/scale (i.e. says 10' per square, but I don't see the squares).
There is good white space between sections and
bolding
. I also liked the room titles that are capitalized. This combination makes it easy to separate each room description.
There is interested treasure-- 'jade ring with a triangular seal (400 gp).' 'Gold-chased pearl handled dagger'. It makes the treasure a little more interesting.
Secret Room #26. I liked this secret room because it rewards mappers who are paying attention and gives a reason for searching for a secret door.
There are areas where the GM can expand the adventure with their own ideas, for example the teleporter or the map in the reading room (Area #28).
There are interesting book names and again....players are rewarded for leafing through them as one can discover prayers for the bloody cross. This little tidbit is a great feature for players who can discover the bloody cross...and then have an opportunity to learn more about it or vice versa.
The golden stairway to the sun....the effects are pretty cool, as well as the Balance. I feel a bunch of adventures have really interesting things they mention, but then there is some reason why players can't find it or why they can't use it. This adventure doesn't do that...it has the real deal. Dare to try it?
Zarmuun Eater of Hearts...hell yeah! Neat monster name. One of my favorites in the adventure is the Mercurial Knight. Upon reading it, I could immediately picture my players fighting it. I do think it might be a little hard for a party of Level 4-6, but it's a really cool idea and I dig it.
There are several new magic items...I really liked the bleeding cross.
I really liked that there was a wide spread difference of alignment in the adventure--not everything is evil. Tons of NPCs to talk to and roleplay with.
The more I think about it, the more I liked that some rooms had the sizes, i.e. 200'x400'. Mostly on the bigger rooms. I know you can pick that up from the map usually, but I do find it handy to have it right there. For me I see it as a tool in that it immediately gives me a mental picture of the room of how big it is and can help me wing it a bit on describing it.
Finally, I really liked the art!!
Suggestions
I happen to be one of those people that likes to see the scale on the maps. Can totally wing it, but I would of preferred to see those darn little boxes.
'A' seemed out of order in the write-up (1, A, 2)...I think I would of started with A instead of in the middle of the numbers.
Use of 'will' a lot. This is just my own pet peeve and I blame Guy Fullerton for how it bugs me when I see it now. Language can be tighter and more active if you get rid of 'will' (and can remove it 99% of the time).
#4 is hard to see on map.
Ernas—should of posted the page number or See Factions or something to help the GM remember the info to help play Ernas when the PCs come across him. This stood out for me because I read half the adventure and when I came back later to finish it and ran into Ernas I forgot about the Factions section....so maybe more cross referencing.
Would of preferred 2 columns in layout.
There are some areas where I think the order is off, here is an example:

With this room, the first sentence is ok. The second sentence--Pro. from evil, etc. should be lower down or at the end. This is something that can be discovered if PCs take a closer look later on. But I think one of the first things PCs are going to notice is the worthless remains attempting to push each other in the circle. And there is another missed opportunity there as instead of saying 8 worthless remains, their appearance could of been described instead because PCs may not have labeled these things as worthless remains...does that makes sense? BUT...I love what's happening in this room and there are several other instances in the other rooms of some sort of activity going on which is great.
The only other thing I can think of is I would of liked to see this a little bigger. There are some scenes for some of the rooms--ocean, fire, jungle, etc. I think it would of been cool to maybe have a few rooms with this theme or make them bigger and give them some more interest. For example, maybe there is a 3-4 room cave or entrance into a giant pitcher plant or a huge jungle tree to climb to a tree house....or maybe there is a small island in the ocean or a coral reef maze. The jungle room especially...the idea was cool, but it felt like there was a missed opportunity there. I think it would of enhanced the fun house vibe. I also realize this adventure had a deadline to be completed.
Final Verdict
Overall, I could totally see myself grabbing this adventure and using it. Definitely better than some adventures I have purchased.
8/10