Should be playing D&D instead
Dream House of the Nether Prince
AD&D level 14+
by Anthony Huso
blog -
thebluebard.com
art by Valin Mattheis -
website
maps by Tim Hartin -
website
buy hardcover and pdf
here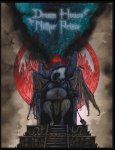 Since I read Ben L's review of The Night Wolf Inn and had to get myself a copy, I have followed the exploits of Anthony Huso, one of 1st edition AD&D's most devoted exponents. He has an long series of posts on his blog about his BtB AD&D home game. He makes no apologies for his playstyle and is uninterested in compromising for the mainstream.
Also, he likes Blue Oyster Cult [1]. My kinda guy!
The final adventure in the author's six-year home game, Dream House of the Nether Prince is set inside the abyssal palace of the Demon Prince Orcus. Being a fan of the goat-headed one himself, obviously I had to get my hands on it.
A digression:
Back in the bad old days of the '90s, we had
Planescape
. I could never quite get my head around it [2]. The idea of a fantasy-Dickensian London where you run into a demon at a bar, but he's just hanging out drinking a funny-coloured beer, looking for mortals to tempt or selling you Green Steel weapons... it never sat right with me. Just like
Twilight
did to vampires, Planescape took what should be the most profound manifestations of evil - beings that are truly inhuman in every sense - and watered them down into regular guys with horns & tails.
Huso keeps demons harsh. Dream House begins with
The Enchiridion
, an 11-page treatise on AD&D demons. This section really showcases his imaginative approach. He takes every hint & clue dropped by Gygax in the core books, extrapolating outwards from there while remaining faithful (as far as I can tell) to the source material. This section covers a huge range of topics ranging from special Abyssal effects to new treasure, demonic transmogrification and more.
Maybe you already have rules for some of these in your game, but The Enchiridion has something worthwhile for everyone. The sections on amulets and summoning are really interesting. The rules are a bit complex in terms of what happens when demons are killed with/without amulets, what happens to the amulets, etc. but they are absolutely Gygaxian: I can see how players interacting with these systems will produce lots of downstream effects that will drive ongoing campaign play. They can see what works and what doesn't, make demonic enemies, strike bargains (successfully or not) or struggle to destroy a demon permanently.
I love the treasure section, always a high point of Huso's work. Gold piece values are provided for an entire economy based on human corpses (the demons eat them) and abyssal larvae. Along with these are exotic trade goods, some new and some from his other adventures like Dam Marmara or ebonwood bars. This kind of variety in treasure keeps things interesting, especially in a high-level adventure that has literally
tens of millions
of gp for the taking!
A section on abyssal weather, special effects & other hazards adds icing on the Cake of Pain that adventuring in the lower planes is meant to be. Effects range from maddening winds to sulfuric rain, toxic snow, mutations and even earthquakes. All of this should make your players rue the day they ever delved into the Abyss before anyone rolls initiative.
Planescape this ain't.
ACHTUNG!!! BIG-TIME SPOILERS AHEAD
Dream House is written for the author's home campaign and no concessions are made to the rest of us. The only hook we get is the following:
"You have obtained the gobbet of mindless immortal flesh, known as the Starfire Neonate. To prevent [a hideous elder god] from ending your world, you must bring the Neonate's imbecile god-flesh into direct contact with [the elder god]. Much like the meeting of a Xag-ya and a Xeg-yi, the event will destroy or [more likely] banish both.

Because the [elder god] inhabits the trackless depths of the Prime Material's cosmic void, the only way to find and reach it, is to use a gate. The only known gate is in the Abyss, and it is located in Orcus' Iron Vauntmure--for the Prince of the Undead doth treat with the [elder god] time to time.

Ergo, the PC's motive is quite simple.

1. Arrive in Pazunia
2. Enter the Iron Fort
3. Find and Open the Gate
4. Force the Starfire Neonate to Touch the [elder god]"
It then goes on to explain that this whole adventure (and maybe your whole campaign!?) is part of an elaborate long-term plot by Orcus. The characters are going to be catspaws in his never-ending war with Demogorgon, whom Orcus hopes to draw out at an opportune moment and defeat for good.
This is totally awesome but rather specific and may not apply to my game or yours. Cool that we get a slice of Huso's totally fucking wild home game, but it would be nice to get a few more readily usable hooks or rumours. Honestly though, if your DMing chops are remotely up to the task of running this adventure you can come up with a reason for the PCs to go there.
*****
The adventure section itself runs 89 pages, spanning 137 rooms over three castle levels and the caverns below. It is crammed with hordes of unflinchingly dangerous monsters and dickish traps. I want to see the character sheets of the party that survived this shitstorm. Did your group squash Acererak and piss in Vecna's eye-hole? Maybe you have a shot at this.
There aren't many rooms of the "let's mess with it and see what happens" type, usually staples in modern OSRland. There is no faction play based on reaction rolls and figuring out what the NPCs want. Dream House is a pounding, ceaseless battery of monsters and traps. Curiosity and fiddling with things is rarely the right move. Many rooms are simply a drain on resources best bypassed or avoided. This adventure demands that the players function at a high level of competence all the way through. Individually some of these encounters may not have too much going on, but the overall effect is powerful and highlights Huso's approach rooted in a deep reading of the DMG and the classic Gygax modules, especially the S series I think.
Notes are provided on monster behaviour in terms of investigating disturbances, guarding areas and chasing foes in the form of small icons next to the monster statblocks. This is a nice shorthand that you will definitely use.
The tunnels below the fortress are called
The Warrens of the Prince
and they're just a warm up: pit traps into frozen abysses, ghoulification curses, Vrock packs, 14,000 Manes demons and a few really harsh uniques (the 24 HD scarlet beast of revelation!!!). This level is mostly monsters and traps and I felt a lack of interactivity here, although the rooms that do have more going on are very cool. There are a few bangers like the Rag-Man, and the treasure room with possibly every cursed item in the book.
As the players ascend things get progressively more strange and interesting. The first floor is the
Court of Orcus
. Here we get another dose of dangerous passive effects. These are generally under-used in modern adventures and it's a shame. Huso does these really well, adding another layer of tactical challenge for characters who are presumably loaded down with tons of game-breaking magic items & spells, without engaging in cheap gimping. The Braziers of Devotion act as gaze attacks that force victims to sacrifice valuable goods in them and Dimensional Ward Stones slay anyone Teleporting into their area of effect (there goes the scry-and-die, oops).
The rooms get more dickish here. Doors that
Finger of Death
you, illusory walls, 20HD zombie guardians, disintegration pits, mutations, suicide-inducing fear effects, squads of Yochlols and Type VIs. A few no-save screwjobs like the stairs that throw you out into the Deep Astral for 1d10 years. They are sometimes telegraphed, but Huso is also counting on players that are as seasoned as their characters being able to spot dangerous situations.
The rooms also get much cooler, with more weird things to look at and interact with: the Wand of Orcus is kept here, there are weird high-tech machines you can play with, a dangerous game of 'pill-roulette' administered by grotesque eyeless undead bitches, and even one of Tiamat's eggs! Orcus His Damned Self is here on his throne and will address the group if they get close, urging them to ascend further to reach their goal (all part of the plan).